»

Recipes

»

Onion

»

Baked Stuffed Onions
Baked Stuffed Onions Recipe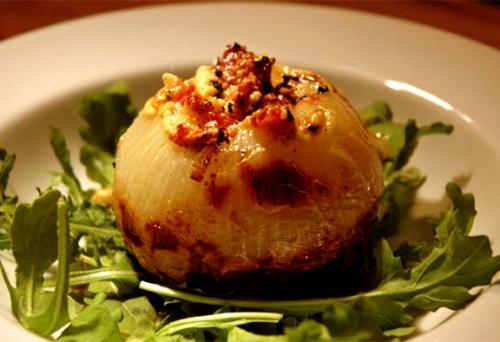 Ingredients
| | | |
| --- | --- | --- |
| | Salt | 1 Teaspoon |
| | White onions | 6 Large |
| | Ground veal | 1⁄2 Pound |
| | Ground beef chuck | 1⁄2 Pound |
| | Black pepper | 1⁄4 Teaspoon |
| | Tomato juice | 1 Cup (16 tbs) |
| | Salt | 1⁄4 Teaspoon |
| | Bay leaf | 1⁄2 |
| | Buttered bread crumbs | 1⁄2 Cup (8 tbs) |
Nutrition Facts
Serving size
Calories 222 Calories from Fat 89
% Daily Value*
Total Fat 10 g15.2%
Saturated Fat 4.5 g22.4%
Trans Fat 0 g
Cholesterol 54.3 mg
Sodium 498.1 mg20.8%
Total Carbohydrates 17 g5.8%
Dietary Fiber 2.7 g10.8%
Sugars 7.4 g
Protein 16 g32.9%
Vitamin A 3.8% Vitamin C 29.2%
Calcium 4.3% Iron 6.7%
*Based on a 2000 Calorie diet
Directions
GETTING READY
1. Peel the skin on the onions and drop in a pan of salted water, boiling them for 20 minutes until half cooked.
2. Drain, refresh and cool.
3. Slice off and discard the root end of the onions to make cups.
4. Remove the center layers to make a shell of ½ inch thickness. Reserve centers.
5. Chop the reserved centers.
6. Butter a casserole dish.
7. Preheat the oven to 350° F

MAKING
8. In a large mixing bowl, combine the chopped onion centers with the ground veal and beef, and seasonings. Mix well.
9. Spoon this stuffing into the onion shells and arrange them in the casserole.
10. Combine the remaining stuffing with tomato juice and bay leaf.
11. Pour this over the onions in the casserole.
12. Sprinkle the buttered bread crumbs over the onions
13. Bake in the preheated oven for 1 ½ hours until the onions and stuffing is cooked and crusts are brown.

SERVING
14. Serve hot as a side dish, allowing 1 onion per person.