»

Recipes

»

European

»

Russian

»

Baked Stroganoff Meatballs
Baked Stroganoff Meatballs Recipe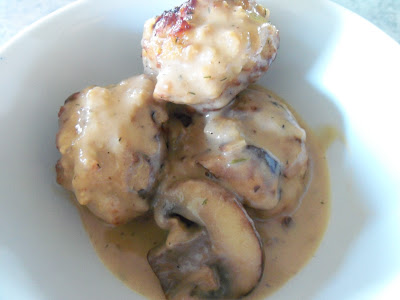 Ingredients
Lean ground beef

1 1⁄2 Pound

Onion

1 Small

, finely chopped

Grated parmesan cheese

1⁄4 Cup (4 tbs)

Milk

1⁄3 Cup (5.33 tbs)

Egg

1

, beaten

Salt

1 Teaspoon

Worcestershire sauce

1 Teaspoon

Pepper

1 Dash

Canned cream of mushroom soup

10 3⁄4 Ounce

(1 Can)

Beef bouillon cube

1

, crumbled

Long grain and wild rice

6 Ounce

(1 Package)

Canned mushroom stems and pieces

4 Ounce

(1 Can)

Butter/Margarine

1 Tablespoon

Boiling water

2 1⁄4 Cup (36 tbs)

Dairy sour cream

1⁄2 Cup (8 tbs)

Sliced pimento

2 Ounce

, drained (1 Jar)
Directions
Preheat oven to 400°F (205°C).
In a large bowl, combine beef, onion, Parmesan cheese, milk, egg, salt, Worcestershire sauce and pepper.
Mix well.
Shape into 18 meatballs.
Place in a 2-quart baking dish.
Bake, uncovered, for 15 minutes.
Drain off fat.
Stir in soup and bouillon cube.
Reduce oven temperature to 350°F (177°C) and bake, uncovered, for 45 minutes.
Place contents of rice and seasoning packets, mushrooms and butter or margarine in a 1-quart casserole.
Add boiling water, stir and cover.
Bake in oven beside baking dish with meat balls, about 40 minutes, or until all liquid is absorbed.
Remove meatballs from oven; stir in sour cream.
Return to oven and heat 5 minutes.
Stir pimiento into rice.