»

Recipes

»

Omelette

»

Baked Spinach Omelette
Baked Spinach Omelette Recipe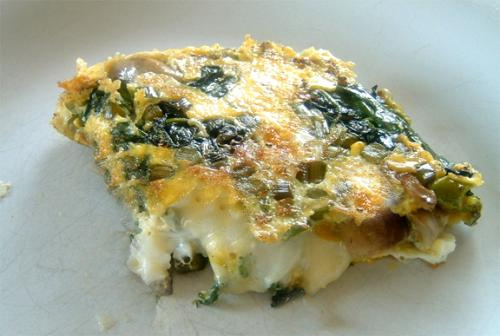 Summary
Preparation Time
10 Min
Cooking Time
40 Min
Ready In
50 Min
Difficulty Level
Very Easy
Health Index
Healthy
Servings
6
Ingredients
Spinach

3 Pound

, washed, drained and coarsely shredded

Butter

3 Tablespoon

Salt

To Taste

Freshly ground pepper

To Taste

Tabasco

1 Dash

Eggs

6

Freshly grated parmesan cheese

1⁄3 Cup (5.33 tbs)
Nutrition Facts
Serving size
Calories 208 Calories from Fat 123
% Daily Value*
Total Fat 14 g21.4%
Saturated Fat 6.7 g33.7%
Trans Fat 0 g
Cholesterol 233.7 mg
Sodium 421 mg17.5%
Total Carbohydrates 9 g3%
Dietary Fiber 5 g20.1%
Sugars 1.4 g
Protein 16 g31%
Vitamin A 434.5% Vitamin C 106.3%
Calcium 33% Iron 39.9%
*Based on a 2000 Calorie diet
Directions
Cook the spinach for 3 minutes in the water that clings to it.
Drain the spinach and squeeze it dry in a strainer.
Return the spinach to the saucepan.
Add the butter.
Cook over high heat, stirring constantly, until the spinach is well coated with the butter.
Remove from heat and season lightly with salt (the cheese will be salty), pepper and Tabasco.
Beat together the eggs and the Parmesan cheese.
Butter a fairly deep 8-inch baking dish or a deep 8-inch pie pan on all sides.
Place it for a few moments over direct low heat to heat it up.
Pour in half of the egg mixture.
Cook like an omelet for 2 minutes or until set.
Remove from the heat.
Spread the spinach evenly on top of the eggs.
Top the spinach evenly with the remaining eggs.
Bake in a preheated moderate oven (350° F) for about 15 minutes or until set and golden.
Unmold on a plate and serve hot with a mushroom or tomato sauce.