»

Recipes

»

Baked Spaghetti Squash
Baked Spaghetti Squash Recipe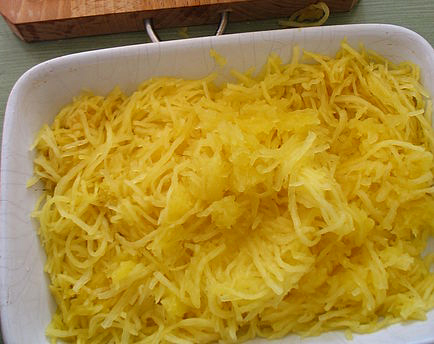 Ingredients
| | | |
| --- | --- | --- |
| | Spaghetti squash | 1 |
| | Olive oil | 1 Teaspoon |
Nutrition Facts
Serving size
Calories 101 Calories from Fat 22
% Daily Value*
Total Fat 3 g3.9%
Saturated Fat 0.47 g2.3%
Trans Fat 0 g
Cholesterol 0 mg
Sodium 51.4 mg2.1%
Total Carbohydrates 21 g7%
Dietary Fiber 0 g
Sugars 0 g
Protein 2 g3.9%
Vitamin A 3% Vitamin C 10.6%
Calcium 7% Iron 5.2%
*Based on a 2000 Calorie diet
Directions
GETTING READY
1) Preheat the oven to 350 degrees.
2) With a heavy knife, cut the squash into half, lengthwise. (Note that you'll get longer strands, when you cut it lengthwise.)

MAKING
3) In a baking dish, arrange the halves, cut side facing down.
4) Bake in the preheated oven for hour, or until it turns fork tender.
5) After baking, remove from the oven.
6) With a fork, pull the cooked flesh in strands from the skin.

SERVING
7) You can toss this with olive oil.

TIPS
Roasted spaghetti seeds (with butter) make a great snack.
Image Courtesy :
http://commons.wikimedia.org/wiki/File:Spaghetti_Squash_cooked_and_prepared_3.jpg