»

Recipes

»

Meatball

»

Baked Saucy Meat Balls
Baked Saucy Meat Balls Recipe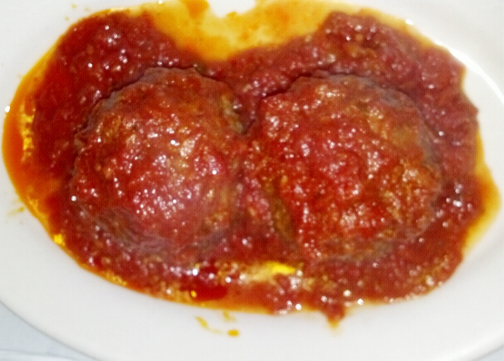 Ingredients
Ground beef

1 1⁄2 Pound

Sausage meat

1⁄2 Pound

Applesauce

8 Ounce

(1 Jar Junior)

Soft bread crumbs

1 Cup (16 tbs)

(2 Slices)

Prunes

8

, pitted and chopped

Salt

1 Teaspoon

Pepper

1⁄4 Teaspoon

Condensed tomato soup

10 3⁄4 Ounce

(1 Can)

Water

1⁄4 Cup (4 tbs)
Nutrition Facts
Serving size
Calories 408 Calories from Fat 273
% Daily Value*
Total Fat 30 g46.6%
Saturated Fat 10.8 g54%
Trans Fat 0.1 g
Cholesterol 80.4 mg
Sodium 655.4 mg27.3%
Total Carbohydrates 15 g5.1%
Dietary Fiber 1 g4.1%
Sugars 8.9 g
Protein 20 g39.2%
Vitamin A 3.6% Vitamin C 3.7%
Calcium 1.4% Iron 8%
*Based on a 2000 Calorie diet
Directions
GETTING READY
1) Preheat oven to 375°F before baking.

MAKING
2) Take a large bowl and mix together ground beef, sausage meat, applesauce, bread crumbs, prunes, salt, and pepper in it with a fork just until blended.
3) Figure the mixture into 24 balls and keep in an 8-cup baking dish.
4) Take a small bowl and combine tomato soup and water in it.
5) Spoon this over meat balls and bake, covered for 1 hour until bubbly in center.

SERVING
6) Serve hot.
Image Courtesy :
http://www.flickr.com/photos/thegirlsny/7594527944/