»

Recipes

»

Pudding

»

Baked Rice Pudding
Baked Rice Pudding Recipe
Baked Rice Pudding is an amazingly delicious dessert recipe version. An easy to make pudding recipe, you will simply find this Baked Rice Pudding both mouth-watering and amazingly tempting.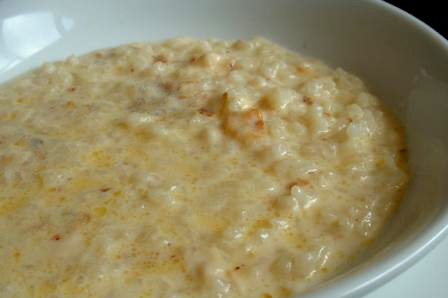 Ingredients
2 oz pudding rice

Milk

1 Pint

Caster sugar

1 Ounce

1 strip of lemon peel

Nutmeg

1 Teaspoon (Leveled)

, grated

Butter

1/2 Ounce
Directions
Wash the rice and drain well.
Put into a 1 1/2 pint (900 ml) buttered oven proof dish and stir in the milk.
Leave for about 30 minutes for the rice to soften.
Add the sugar and lemon peel and stir well.
Sprinkle the top with nutmeg and dot with butter.
Bake in the centre of a cool oven, 300°F, 150°C, gas no. 2 for 2 to 2 1/2 hours.
The skin may be stirred in two or three times during the first hour of cooking to increase the creaminess.
To make a richer rice pudding: Remove the pudding from the oven after 1 1/2 or 2 hours and cool for 10 minutes, then stir in a well beaten egg and return to the oven and bake for a further 1/2 to 1 hour.