»

Recipes

»

American

»

Baked Potatoes With Wild Mushroom Ragu
Baked Potatoes with Wild Mushroom Ragu Recipe
Grace Parisi likes using a mix of shiitake, oyster, chanterelle and button mushrooms for this succulent ragù to top baked potatoes, but any combination will work.
Picture Credit: John Kernick
Recipe By: Grace Parisi
Pairing Notes: Beer This dish's earthy rusticity demands a rich brown ale (and maybe a fire in the fireplace).
For more recipes, please visit Foodandwine.com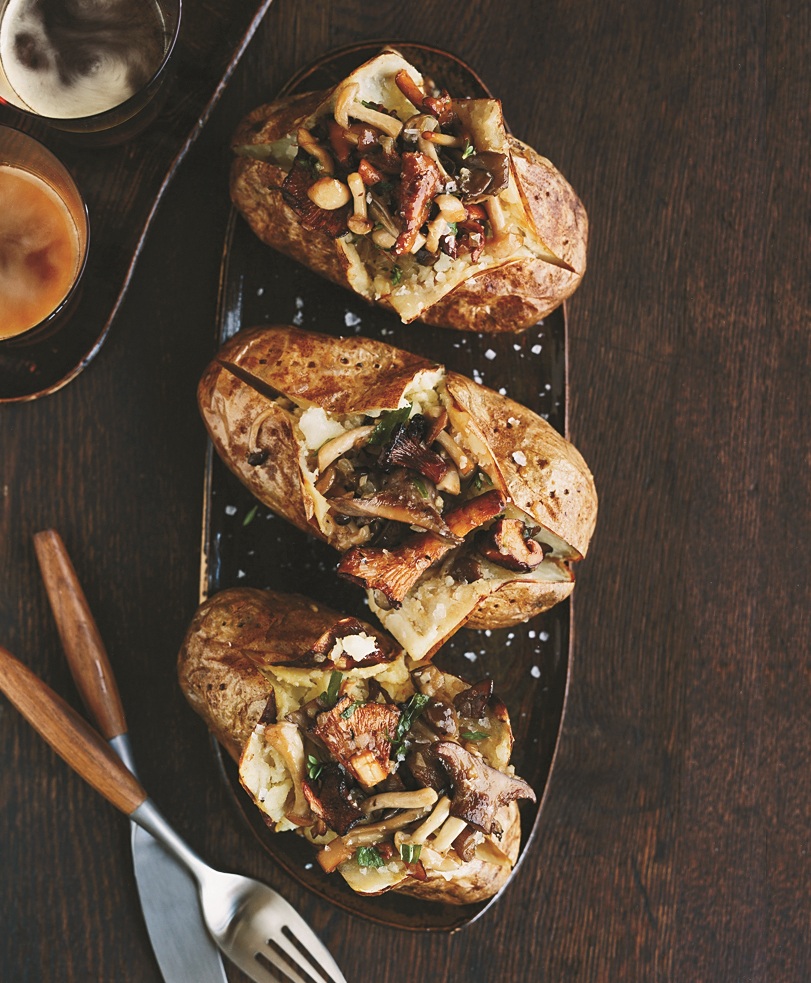 Ingredients
8 baking potatoes (4 pounds)

1/4 cup plus 2 tablespoons canola oil, plus more for rubbing

Unsalted butter

2 Tablespoon

Wild mushrooms

4 Pound

, mixed

Ground pepper

1 To taste

White onion

1

, finely chopped

Garlic

4 Clove (5gm)

, minced

Dry white wine

1 Cup (16 tbs)

1 cup beef stock or low-sodium broth

Tarragon

1 Tablespoon

, chopped

Thyme

2 Teaspoon

, chopped

Salt

To Taste
Directions
1. Preheat the oven to 425°. Pierce the potatoes with a fork and rub with oil. Bake for 1 hour, or until tender when pierced.
2. Meanwhile, in a large, deep skillet, melt the butter in the oil. Add the mushrooms, season with salt and pepper and cook over high heat, stirring occasionally, until tender, 20 minutes. Add the onion and garlic and cook, stirring, until the mushrooms are deeply browned, 8 minutes. Add the wine and cook until evaporated. Stir in the stock, tarragon and thyme and bring to a boil. Season with salt and pepper.
3. Slit the potatoes and fluff the insides with a fork. Season with salt and transfer to plates. Spoon the mushroom ragù onto the potatoes and serve.

NOTES: One Serving 366 cal, 14 gm fat, 2.7 gm sat fat, 51 gm carb, 5.5 gm fiber.