»

Recipes

»

Cheese

»

Baked Macaroni And Cottage Cheese
Baked Macaroni and Cottage Cheese Recipe
Baked Macaroni and Cottage Cheese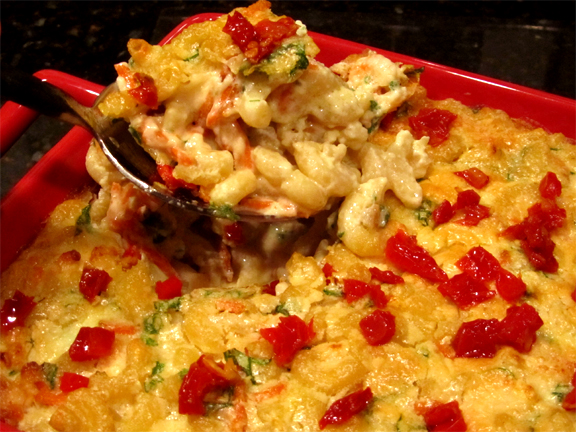 Ingredients
Macaroni

8 Ounce

Boiling water

8 Cup (128 tbs)

Salt

3 Teaspoon

Butter/Margarine

3 Tablespoon

Flour

3 Tablespoon

Canned tomatoes

29 Ounce

(No 2 Can / 2 1/2 Cups)

Onion

1

, minced

Egg

1

, beaten

Cottage cheese

2 Cup (32 tbs)

Pepper

1⁄8 Teaspoon

Fine dry bread crumbs

1⁄3 Cup (5.33 tbs)
Nutrition Facts
Serving size: Complete recipe
Calories 2172 Calories from Fat 524
% Daily Value*
Total Fat 60 g91.9%
Saturated Fat 30.4 g151.9%
Trans Fat 0 g
Cholesterol 353.4 mg117.8%
Sodium 8708.8 mg362.9%
Total Carbohydrates 305 g101.8%
Dietary Fiber 27.2 g108.8%
Sugars 30 g
Protein 112 g223.2%
Vitamin A 149% Vitamin C 143%
Calcium 90.6% Iron 127.8%
*Based on a 2000 Calorie diet
Directions
1. Start oven, set at Moderate, 350° F. Rub a 2-quart baking dish with butter or margarine.
2. Use elbow macaroni or break long sticks into 2-inch lengths. Drop into boiling water with 2 teaspoons salt. Cook 12 minutes. Drain and rinse with cold water.
3. Melt the butter or margarine in a saucepan, stir the flour into it and cook, stirring about 5 minutes, or until the flour is lightly browned.
4. Remove from the heat and add the tomatoes, onion, egg, cheese, the rest of the salt and the pepper. Mix and pour over the macaroni.
5. Pour mixture into the casserole. Top with bread crumbs. Bake about 40 minutes.