»

Recipes

»

Soup

»

Baked Bean Soup
Baked Bean Soup Recipe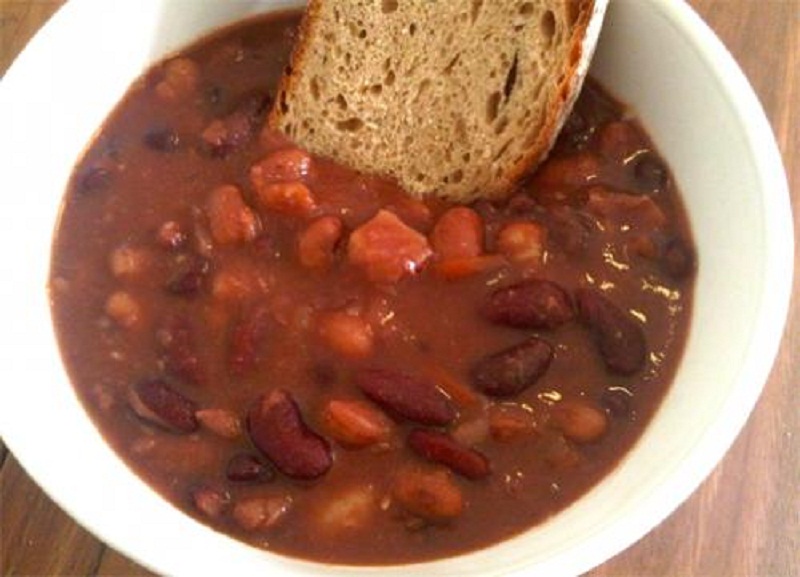 Summary
Preparation Time
10 Min
Cooking Time
3 Hr 0 Min
Ready In
3 Hr 10 Min
Difficulty Level
Easy
Health Index
Average
Servings
6
Ingredients
Canned baked beans

12 Ounce

(1 Can)

Canned stewed tomatoes

16 Ounce

(1 Can)

Bacon strips

6

, cooked chopped

Bacon drippings

2 Tablespoon

Chopped onion

2 Tablespoon

Salt

1 Teaspoon

Vinegar

1 Tablespoon

Brown sugar

1 Tablespoon
Nutrition Facts
Serving size
Calories 171 Calories from Fat 74
% Daily Value*
Total Fat 8 g12.7%
Saturated Fat 3.5 g17.5%
Trans Fat 0 g
Cholesterol 8 mg
Sodium 648.1 mg27%
Total Carbohydrates 19 g6.4%
Dietary Fiber 4 g15.8%
Sugars 9.8 g
Protein 5 g9.3%
Vitamin A 3.8% Vitamin C 13.5%
Calcium 5.6% Iron 6.6%
*Based on a 2000 Calorie diet
Directions
MAKING
1. In a slow-cooking pot or crock pot, combine all the ingredients.
2. Give a good stir to mix well.
3. Cover pot with its lid
4. Allow the beans and vegetables to cook on HIGH for 2 to 3 hours or if you have ample time and are in not hurry, cook on low for 4 to 6 hours

SERVING
5. Ladle the soup into warmed soup bowls or soup plates.
6. Serve the soup hot with crusty bread if you like.