»

Recipes

»

Indian

»

Sabzi
Baingan Bharta Recipe
This is a really easy and tasty Indian dish (dry curry) that is sure to stir up your taste buds. Delicious baingan bharta is ready to eat with pita bread, Indian naan, or rice. This is one of my favourite recipe.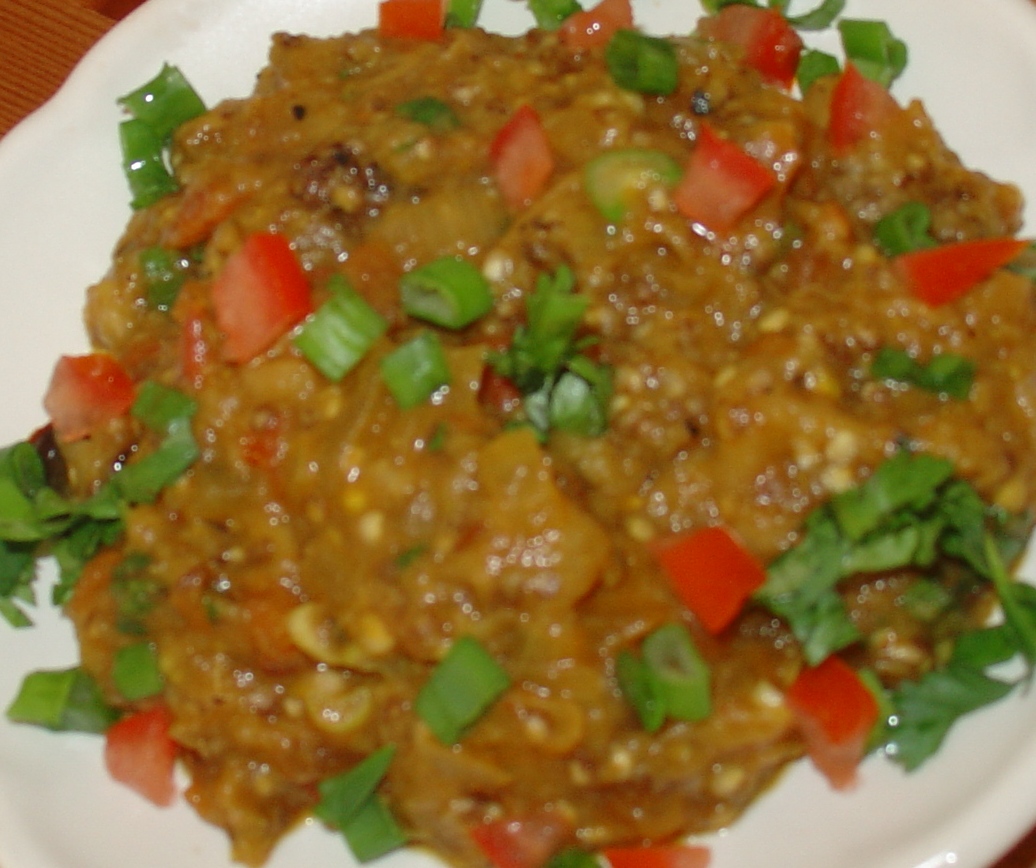 Ingredients
Brinjal

1 Large

Oil

2 Tablespoon

Asafoetida

1 Pinch

Cumin seeds

1/2 Teaspoon

Onion

1 Large

Ginger

1 Tablespoon

, chopped

Garlic

1 Teaspoon

, chopped

Green chillies

1 Teaspoon

Tomatoes

1 Large

, chopped

Chilli powder

1 Teaspoon

Turmeric powder

1/2 Teaspoon

Garam masala

1/2 Teaspoon

Salt

To Taste
Directions
Wash and wipe the brinjal. Roast it over direct flame for a few minutes, turning it often so
that it cooks evenly. Roast till the brinjal shrinks, blackens and starts peeling off.
Cool,peel and mash the brinjal. Heat the oil in a pan.
Add the asafoetida and cummin seeds and saute till the seeds are light brown in colour.
Add 1/2 the chopped onion, ginger, garlic and green chillies.
Saute on a low flame for about 5 minutes, stirring continuously.
Add the chopped tomato, mashed brinjal, chilli powder,turmeric powder and salt.
Cook covered on a low flame for about 5 minutes.Mash the brinjal thoroughly with the
back of a ladle and add the remaining onion. Cook uncovered on a high flame for 2
minutes, stirring continuously.
Add the garam masala and mix well. Garnish with chopped coriander leaves and green
chillies.

LIZA SUSAN says :
Iam waiting to get a receipe of this, anyhow let me try and advis you
Posted on:
20 February 2008 - 6:11am

Traditionally the Baingan (Egg plant) was roasted over Charcoal or ashes of burnt wood for a long time. These days people do it directly over flame on the stove, grill it or some even bake it. But exposing the Egg plant directly to fire works best to get its optimum flavor. For those who use an electric stove, the grill or oven should be fine. I haven't tried rolling the eggplant directly on the coil of the electric stove though. Wonder if it works just as good!
Posted on:
16 February 2008 - 2:21pm

RS says :
Yes, Snigdha, roasting the eggplant directly on electric stove also creates nice, smoky flavour. I prefer it over baking in oven as it tastes much better. I live in Poland and I don't have a flame stove at home, I tried baking the eggplant in oven and after a few times thought of roasting it directly over electric stove and it tastes much, much better. Trust me! :)
Posted on:
17 October 2011 - 3:29pm