»

Recipes

»

Indian

»

Badami Gosth
Badami Gosth Recipe
Spicy Badami Gosth cooked with cashew nuts and serve with hot rice or Yakhni pulao.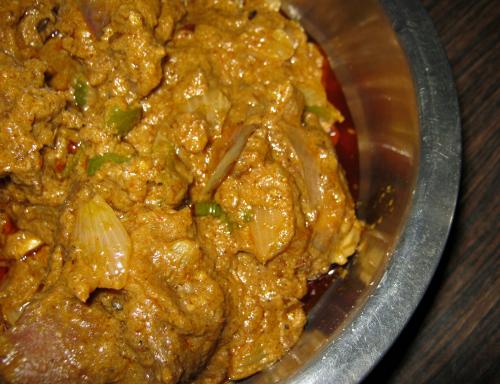 Ingredients
Lamb/Goat meat

1 Pound

Turmeric powder

1⁄4 Teaspoon

Yogurt

2 Tablespoon

Bay leaf

2

Ginger

1 Inch

Cilantro

15

Black cumin

1⁄4 Teaspoon

(Shahi Jeera)

Garam masala powder

1 Teaspoon

Sugar

1 Pinch

Onion

1 Large

Garlic

5 Clove (25 gm)

Peppercorns

6

Nutmeg powder

1 Pinch

Mace

1 Pinch

Salt

To Taste

Red chili powder

2 Teaspoon

Cooking oil

1⁄2 Cup (8 tbs)

Milk

2 Tablespoon

Potato

2

, cut into 1 inch cubes

Cashew nut

4

Almond

4
Nutrition Facts
Serving size
Calories 722 Calories from Fat 479
% Daily Value*
Total Fat 54 g83.3%
Saturated Fat 13.5 g67.5%
Trans Fat 0 g
Cholesterol 76.6 mg
Sodium 231.4 mg9.6%
Total Carbohydrates 35 g11.5%
Dietary Fiber 5.5 g22.2%
Sugars 5.7 g
Protein 27 g55%
Vitamin A 13.7% Vitamin C 52.8%
Calcium 10.5% Iron 23.1%
*Based on a 2000 Calorie diet
Directions
1. Marinate the meat for 4 hours by mixing the red chili powder, turmeric powder, and yogurt.

2. Make a paste of 1/4 onion, garlic, ginger and cilantro by adding little water.

3. Heat oil in a pressure cooker. Add bay leaves, garam masala powder and pinch of sugar. Fry for 1 min in medium heat.

4. Add sliced onion, and fry till golden brown. Add the paste from step 2 and fry for 10 min.

5. Grind together the shah Zeera, peppercorns, and nutmeg powder. Add to the fried onions and fry for 2 minutes.

6. Add the red chili powder and milk and fry for 5 min. in medium heat.

7. Add the marinated meat and fry on slow medium heat for a 30 min. Make sure that the meat does not stick to bottom of the vessel. Fry till the oil leaves the side of the pan.

8. Grind together the cashew nuts and almonds. Add to the fried mutton. Fry for 10 min. If required add little water to prevent the mutton from sticking to the bottom.

9. Add 1.5 cup water and close the pressure cooker lid. Cook under full pressure for 10 minutes. Remove from heat and remove the pressure and open the cooker.

10. Add the potato and close the pressure cooker and bring to pressure. Cook under full pressure for 5 minutes. Remove from heat and let it cool down slowly.