»

Recipes

»

Bacon

»

Bacon And Egg Tart
Bacon And Egg Tart Recipe
Bacon And Egg Tart has a delicious taste. The bacon and eggs gives the Bacon And Egg Tart a rousing taste. Bacon And Egg Tart is inspired by restaurants across the world. Must catch it.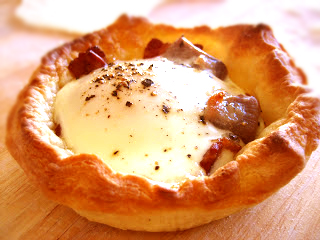 Ingredients
Flour

6 Ounce

(Pastry:)

Butter

3 Ounce

(Pastry:)

Salt

1 Pinch

(Pastry:)

Water to mix

4 rashers of bacon

Eggs

2

(Filling:)

1/2 pint thin cream

Salt

To Taste

Pepper

To Taste
Directions
Make the short pastry 2 or 3 hours before using and leave it in a cool place.
Butter a flat pie tin.
Roll out the pastry and line the tin.
Melt some butter in a saucepan or frying pan, and cook the rashers, first cutting them into small pieces, until they are softened.
Remove and put on the pastry.
Beat together eggs, cream, salt and pepper.
Pour into pastry case, and bake in a hot oven for 30 minutes.