»

Recipes

»

Curry

»

Baby Potato Curry
Baby Potato Curry Recipe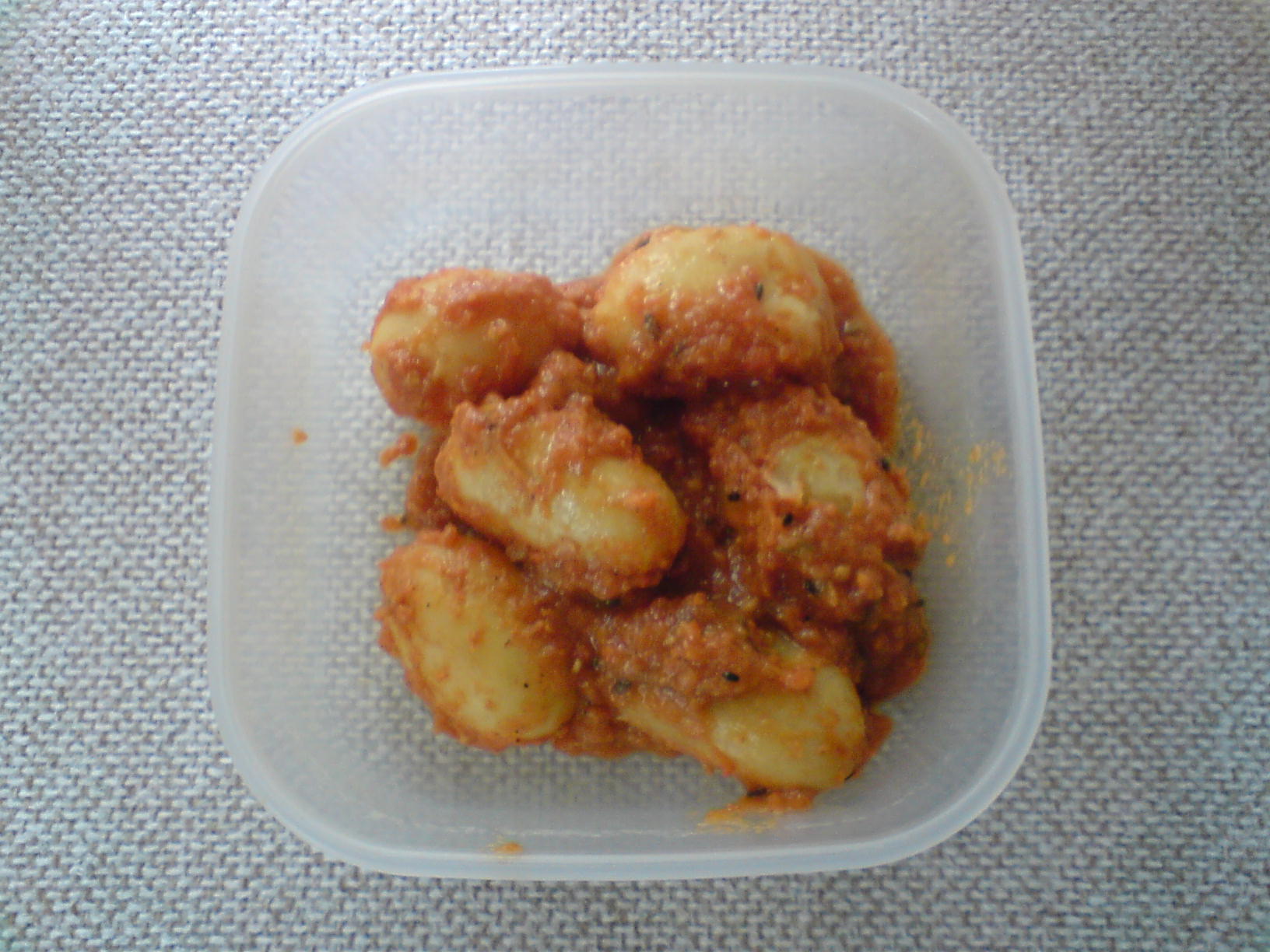 Ingredients
| | | |
| --- | --- | --- |
| | Baby potato | 200 Gram |
| | Saunf | 1⁄4 Teaspoon |
| | Tomato puree | 3 Tablespoon |
| | Hing | 1⁄4 Teaspoon |
| | Red chili powder | 1 1⁄2 Teaspoon |
| | Garam masala powder | 1⁄2 Teaspoon |
| | Salt | To Taste |
| | Water | 1⁄2 Cup (8 tbs) |
| | Oil | 2 Tablespoon |
Nutrition Facts
Serving size
Calories 110 Calories from Fat 71
% Daily Value*
Total Fat 8 g12.4%
Saturated Fat 1 g5.1%
Trans Fat 0 g
Cholesterol 0 mg
Sodium 140.7 mg5.9%
Total Carbohydrates 8 g2.6%
Dietary Fiber 1.6 g6.5%
Sugars 1.3 g
Protein 1 g2.9%
Vitamin A 8.5% Vitamin C 14.9%
Calcium 2.7% Iron 1.4%
*Based on a 2000 Calorie diet
Directions
1) Boil the potatoes , peel the skin and pierce them with a fork.
2) Heat oil in a kadai, add the saunf and allow it to crackle and then add the
tomatoe puree and saute for a while.
3) Then add the hing, chillipowder, garam masala powder, salt and saute for a while.
4) Then add the water to the gravy and allow it to cook till the gravy becomes thick
5) Finally add the baby potatos and fry for sometime.Serve with rice

Thanks Deepaspgowda.
Posted on:
11 June 2008 - 8:27am

we can do varity of recipes in baby potato by using methi,jeera etc.simple potato also we can make varity.i think there is a difference.i was talking to my mom after seeing ur mail she told me there is difference in the curries,we use different ingredients and different method.
Posted on:
11 June 2008 - 6:38am

This baby potato curry recipe is wonderful. But i want to know that what is the difference between simple potato curry and baby potato curry?
Posted on:
11 June 2008 - 12:42am