»

Recipes

»

Rum

»

Rum Baba

»

Baba Au Rhum
Baba Au Rhum Recipe
Try out this different, yet appetizingly inviting recipe for Baba Au Rhum. Also, this Baba Au Rhum is too easy to make that you don't have to really plan a lot to prepare this. So just give it a try!
Baba au Rhum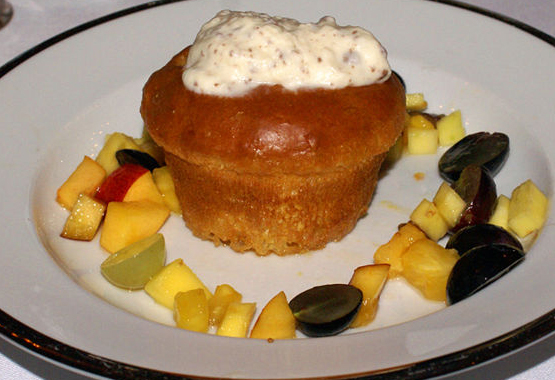 Ingredients
Milk

1/2 Cup (16 tbs)

Butter/Margarine

1/3 Cup (16 tbs)

Salt

1 Teaspoon

Sugar

1/4 Cup (16 tbs)

Yeast, active dry or compressed-1 package

Warm water

1/4 Cup (16 tbs)

Eggs

2 Small

Lemon peel

1/2 Teaspoon

, grated

All-purpose flour-2 1/4 cups, sifted

Water

1/2 Cup (16 tbs)

Sugar

1 Cup (16 tbs)

Molasses

1/2 Cup (16 tbs)

Rum

1/2 Cup (16 tbs)
Directions
MAKING
1)In a saucepan, scald milk, add sugar, salt and butter.
2)Cool to lukewarm.
3)In a large mixing bowl, add water and yeast.
4)Dissolve yeast and add cooled milk mixture. Mix well.
5)In a bowl, beat eggs along with lemon peel.
6)Add flour and beat until smooth. Cover and let it rise for about 6 hours.
7)Then, beat until smooth and elastic.
8)Take greased muffin pans, baba molds or ring mold and fill ½ full.
9)Leave it to rise, uncovered for about 20 minutes.
10)Bake at 425 degrees for 20 minutes. Remove at once from pans.
11)In a saucepan, add water, sugar and molasses and boil for 10 minutes.
12)Let it cool slightly and add rum.
13)Take serving dishes and put babas while still piping hot in it and spoon warm syrup over each.
14)Leave it for many hours.

SERVING
15)Serve with extra sauce and top with whipped cream, if desired.