»

Recipes

»

Soup

»

Avgolemono Chicken Soup With Rice
Avgolemono Chicken Soup With Rice Recipe
Avgolemono is a classic sauce of chicken broth, egg yolks and lemon juice; the addition of a bit more chicken broth, rice and shredded chicken turns it into a satisfying soup.
Picture Credit: Yunhee Kim
Recipe By: Grace Parisi
For more recipes, please visit Foodandwine.com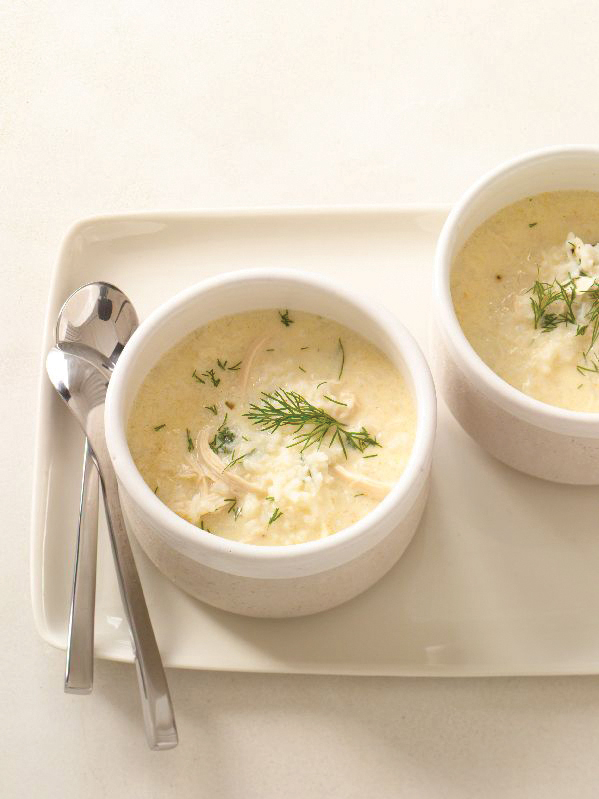 Ingredients
Homemade chicken stock/Low sodium broth

4 Cup (64 tbs)

Freshly ground pepper

To Taste

Cooked white rice

2 Cup (32 tbs)

, warmed

Egg yolks

2 Large

Fresh lemon juice

6 Tablespoon

(1/4 Cup Plus 2 Tablespoons)

Rotisserie chicken

1 Pound

, meat pulled from the bones and coarsely shredded (1 Piece)

Chopped fresh dill

1⁄4 Cup (4 tbs)

Salt

To Taste
Nutrition Facts
Serving size
Calories 370 Calories from Fat 95
% Daily Value*
Total Fat 10 g15.5%
Saturated Fat 2.5 g12.7%
Trans Fat 0 g
Cholesterol 139.7 mg
Sodium 1364.4 mg56.8%
Total Carbohydrates 40 g13.3%
Dietary Fiber 0.43 g1.7%
Sugars 6.4 g
Protein 29 g58.9%
Vitamin A 3.3% Vitamin C 18.9%
Calcium 2.3% Iron 11.8%
*Based on a 2000 Calorie diet
Directions
In a large saucepan, season the stock with salt and pepper and bring to a simmer. Transfer 1 cup of the hot stock to a blender. Add 1/2 cup of the rice, the egg yolks and the lemon juice and puree until smooth. Stir the puree into the simmering stock along with the chicken and the remaining 1 1/2 cups of rice and simmer until thickened slightly, 10 minutes. Stir in the dill and serve.