»

Recipes

»

Mustard

»

Assorted Wursts And Mustards
Assorted Wursts And Mustards Recipe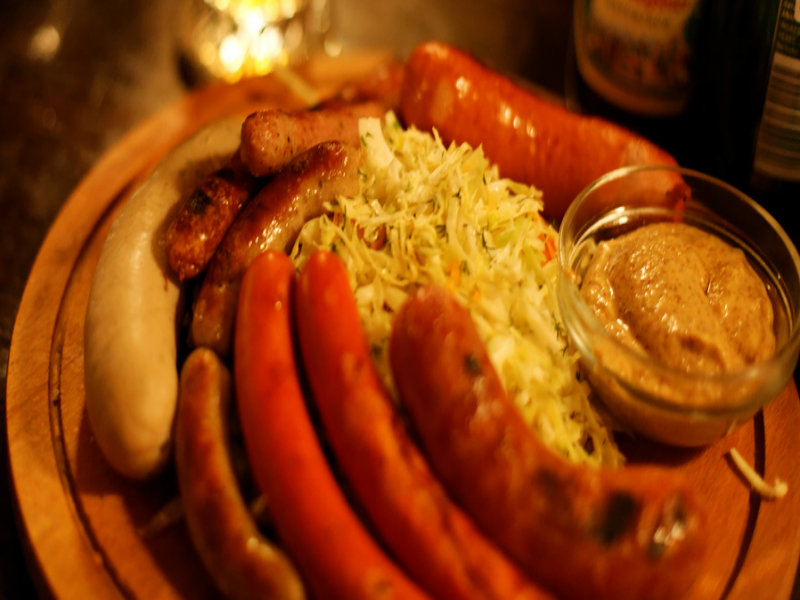 Ingredients
Sausage

3

(Choose From An Assortment Of The Sausages; Such As Weiswurst (Uncooked Veal And Fork Sausage), Bratwurst (Uncooked Fork Sausage), Knackwurst (Cooked Fork And Beef Sausage), Kielbasa (Uncooked Smoked Polish Sausage), Bauernwurst (Cooked Beef And Fork Sausa)

White wine or water

2 Cup (32 tbs)

Unsalted butter

4 Tablespoon

(1/2 Stick)

Mustards

4 Tablespoon
Nutrition Facts
Serving size: Complete recipe
Calories 1707 Calories from Fat 1046
% Daily Value*
Total Fat 118 g182.2%
Saturated Fat 49.1 g245.6%
Trans Fat 0.4 g
Cholesterol 271.6 mg
Sodium 1292.9 mg53.9%
Total Carbohydrates 33 g11.2%
Dietary Fiber 8.8 g35.3%
Sugars 8.7 g
Protein 46 g91.4%
Vitamin A 33.7% Vitamin C 5.3%
Calcium 38.8% Iron 52.7%
*Based on a 2000 Calorie diet
Directions
GETTING READY
1) Prior to cooking the sausages,pierce the skin at several places to prevent them from bursting.

MAKING
2) In a skillet, poach the sausages in wine for about 20 minutes.
3) Remove the sausages and discard the liquid.
4) In a skillet,stir butter until melted and fry the sausages until brown on all sides over moderate heat.

SERVING
Serve them garnished with an assortment of mustards.
Image Courtesy :
http://www.flickr.com/photos/danielpanev/3313954836/