»

Recipes
Asparagus Casserole Recipe
Asparagus Casserole is a delicious recipe which I always love to have. I bet, once you have this Asparagus Casserole, you will always crave for some more.
Crunchy Asparagus Casserole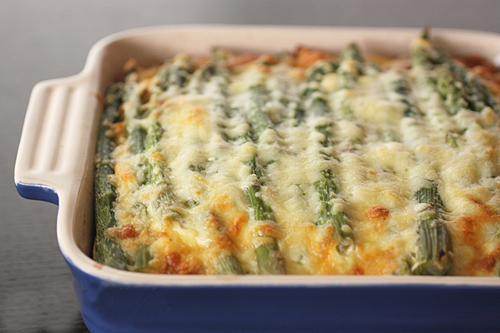 Ingredients
Butter/Margarine

2 Tablespoon

All purpose flour

1 Tablespoon

Salt

1 Teaspoon

Pepper

1⁄4 Teaspoon

Asparagus spears

1 1⁄2 Pound

(Cooked And Liquid Reserved, Use Fresh Ones)

Evaporated milk

1⁄2 Cup (8 tbs)

Cornflake crumbs

1⁄2 Cup (8 tbs)

Hard cooked eggs

2

Shredded cheddar cheese

1⁄2 Cup (8 tbs)
Nutrition Facts
Serving size: Complete recipe
Calories 1398 Calories from Fat 571
% Daily Value*
Total Fat 64 g99.2%
Saturated Fat 37.1 g185.7%
Trans Fat 0 g
Cholesterol 645.6 mg
Sodium 4667.8 mg194.5%
Total Carbohydrates 149 g49.8%
Dietary Fiber 8.3 g33%
Sugars 29.9 g
Protein 53 g105.3%
Vitamin A 160.6% Vitamin C 71.5%
Calcium 99.7% Iron 253.6%
*Based on a 2000 Calorie diet
Directions
Melt butter in saucepan.
Stir in flour, salt, and pepper.
Add asparagus liquid to evaporated milk to make 1 1/2 cups.
Stir into flour mixture and blend until smooth.
Cook sauce for 2 minutes.
Spread asparagus spears in bottom of greased, shallow 2-quart casserole.
Sprinkle half of crumbs over asparagus; add eggs and half of the sauce.
Add remaining crumbs, then the remaining sauce.
Sprinkle with Cheddar cheese.
Bake at 350° for 30 minutes, or until bubbly.