»

Recipes

»

Asian

»

Asian Noodle Turkey Salad
Asian Noodle Turkey Salad Recipe
One of my favorite asian recipes.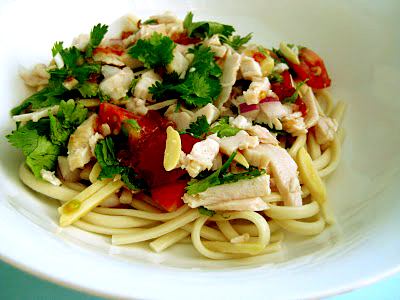 Ingredients
Rice wine vinegar

1/3 Cup (16 tbs)

(Dressing)

Honey

1/4 Cup (16 tbs)

(Dressing)

Chicken package

2

, flavored (Dressing)

Pepper

1/4 Teaspoon

(Dressing)

Water

4 Cup (16 tbs)

(Salad)

Coleslaw mix

5 Cup (16 tbs)

(Salad)

Turkey breast

1/2 pound

(Salad)

Green onions

1/4 Cup (16 tbs)

, thinly sliced (Salad)

Slivered almonds

1/4 Cup (16 tbs)

, toasted (Salad)

Toasted slivered almonds, if desired
Directions
Stir together vinegar, honey, contents of seasoning packets from ramen noodles and pepper in small bowl. Set aside.

Heat water in 3-quart saucepan over medium-high heat until water comes to a boil (6 to 8 minutes). Break noodles in half; add to water. Cook, stirring occasionally, until noodles are just tender (2 to 3 minutes). Drain.

Place cooked noodles in large bowl. Add dressing, coleslaw mix, turkey, green onions and 1/4 cup almonds; toss to coat well. Cover; refrigerate at least 2 hours or overnight.

To serve, garnish with almonds, if desired.

Wonderful Asian Noodle Turkey Salad Recipe .I like every salad because salad is also known as life saver. So I will try this salad recipe very soon.
Posted on:
18 February 2008 - 12:55pm