»

Recipes

»

Soup

»

ARTICHOKE SOUP (Jerusalem)
ARTICHOKE SOUP (Jerusalem) Recipe
This original recipe of Artichoke Soup from Jerusalem has the subtle flavors of onion, potato and parsley. Artichoke Soup is a great way to start your meal and makes for a wholesome and filling grub.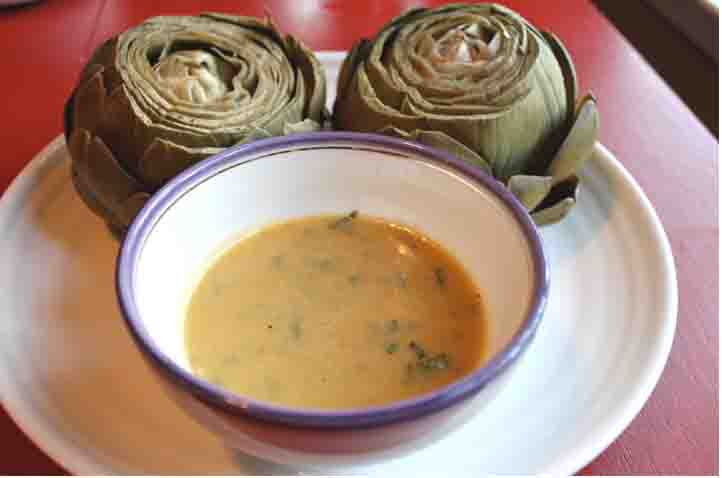 Ingredients
Salt

To Taste

Pepper

To Taste

Jerusalem artichokes

1 Pound

Yoghurt

1⁄2 Cup (8 tbs)

White stock/Water

2 Pint

Milk

1⁄4 Pint

Onion

1 Large

Potato

1 Large

, grated

Paprika

To Taste

(For garnishing)

Parsley

1 Tablespoon

(For garnishing)
Nutrition Facts
Serving size
Calories 500 Calories from Fat 73
% Daily Value*
Total Fat 8 g12.5%
Saturated Fat 3.4 g17%
Trans Fat 0 g
Cholesterol 18.1 mg
Sodium 1025.6 mg42.7%
Total Carbohydrates 88 g29.4%
Dietary Fiber 10 g40.1%
Sugars 35.5 g
Protein 24 g48.6%
Vitamin A 21.9% Vitamin C 101.9%
Calcium 24.7% Iron 54.9%
*Based on a 2000 Calorie diet
Directions
MAKING
1. Peel and slice artichokes and onion.
2. Peel the potato and grate it.
3. In a pan, take sliced artichokes, sliced onion and grated potato.
4. Add white stock and water.
5. Season with salt and pepper and let it simmer for 1 hour or until the vegetables become tender.
6. Strain it. Add milk and yoghurt.
7. Reheat but do not boil.

SERVING
8. To serve Artichoke Soup, sprinkle paprika and top with chopped parsley and a flake of butter.