»

Recipes

»

Pasta

»

Artichoke And Pasta
Artichoke And Pasta Recipe
Would you like to try an artichoke and pasta recipe? I am sharing my favorite artichoke and pasta recipe. This pasta recipe is very simple to cook. I make a change according to the requirement like what is available in the kitchen at the time of cooking. This particular recipe is my favorite because of its simplicity and easy cooking. You should also try this artichoke and pasta recipe. You will love it.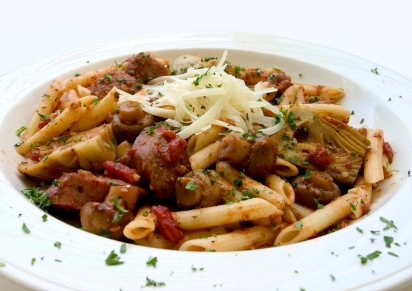 Ingredients
1/2 bouillon cube ( either beef or chicken )

Italian seasoning

1/2 Teaspoon

Spaghetti

150 Gram

Artichokes

1/2 Cup (16 tbs)

, marinated

1/4 cup oil for marinated artichokes

Onion

1 Small

, chopped

Mushrooms

150 Gram

, sliced

Vinegar

1 Tablespoon

Dried parsley

1/2 Teaspoon

Parmesan cheese

Salt

To Taste

Pepper

To Taste
Directions
Step1. Sauté onion, mushroom, artichokes in oil
Step2. Mix salt and peeper and dried parsley.

Cook it on medium heat until onions are clear and mixture is hot.

Step3. In between, cook spaghetti, in bouillon and seasoning. Drain.
Step4. After draining, pour in artichoke sauce and stir well.

At the time of serving, sprinkle on Parmesan cheese and fresh parsley at the table.