»

Recipes

»

Frittata

»

Artichoke Frittata
Artichoke Frittata Recipe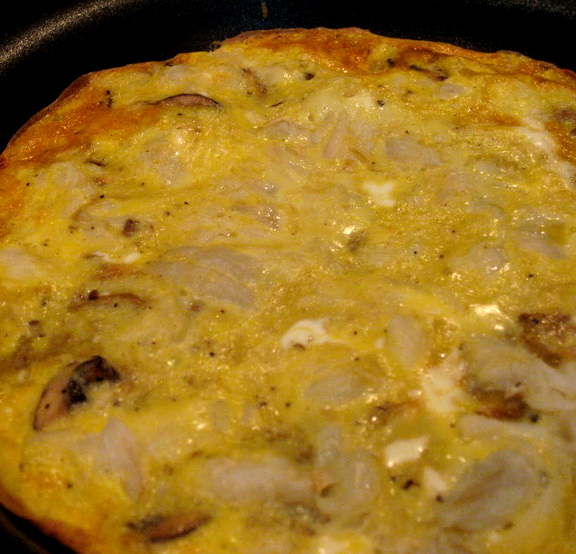 Ingredients
Olive oil

2 Tablespoon

Frozen artichoke hearts package

10 Ounce

, thawed and chopped (1 Package)

Fresh mushrooms

1⁄3 Pound

, trimmed and sliced

Onion

1

, thinly sliced

Garlic

1 Clove (5 gm)

, minced

Dried sweet basil

1⁄2 Teaspoon

Salt

To Taste

Freshly ground black pepper

To Taste

Chopped fresh parsley

1⁄3 Cup (5.33 tbs)

Grated parmesan cheese

1⁄2 Cup (8 tbs)

Eggs

6

, beaten
Nutrition Facts
Serving size: Complete recipe
Calories 1139 Calories from Fat 698
% Daily Value*
Total Fat 79 g121%
Saturated Fat 24.4 g122%
Trans Fat 0 g
Cholesterol 1323.8 mg
Sodium 2302.6 mg95.9%
Total Carbohydrates 41 g13.5%
Dietary Fiber 8 g32.1%
Sugars 13.6 g
Protein 74 g147.2%
Vitamin A 77.5% Vitamin C 82.7%
Calcium 102.4% Iron 67.1%
*Based on a 2000 Calorie diet
Directions
Preheat oven to 350°.
In skillet over medium-low heat, heat oil a minute or two, then add artichokes, mushrooms, onions, garlic, basil, salt, and pepper.
Stir to mix, cover, and cook 5 minutes.
In bowl combine eggs, parsley, and most of the cheese, pour over vegetables.
Sprinkle rest of cheese on top and bake 15 to 20 minutes or until just set but not dry.