»

Recipes

»

Indian

»

Dal

»

Arhar Dal
Arhar Dal Recipe
I like this healthy Arahar Dal Recipe. Arahar Dal is a very common dish in the Indian homes. It is a good source of high protein. It is primarily eaten during Lunch. Arahar Dal goes well with rice, but it can also be eaten with roti .You should try this Arahar Dal Recipe.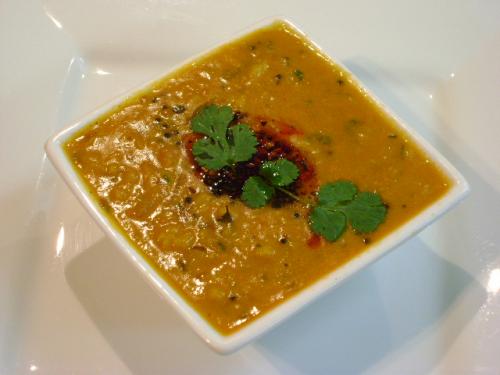 Ingredients
Yellow split peas

1 1⁄2 Cup (24 tbs)

(Toor/Arahar Dal)

Water

8 Cup (128 tbs)

Turmeric powder

1 Teaspoon

Salt

1 Tablespoon

Coriander powder

1 Teaspoon

Sugar

2 Teaspoon

Green chili

5

, sliced

Cooking oil

2 Tablespoon

Ghee

2 Tablespoon

Onion

1 Large

, finely chopped

Finely chopped garlic

3 Clove (15 gm)

Tomato

2 Medium

, finely chopped

Chopped cilantro

2 Tablespoon

Red chili powder

1 Teaspoon

Asafoetida

1 Pinch
Nutrition Facts
Serving size
Calories 441 Calories from Fat 139
% Daily Value*
Total Fat 16 g24.3%
Saturated Fat 5.8 g29%
Trans Fat 0 g
Cholesterol 20.1 mg
Sodium 1483.6 mg61.8%
Total Carbohydrates 71 g23.7%
Dietary Fiber 26.9 g107.7%
Sugars 15.9 g
Protein 26 g51.5%
Vitamin A 24.4% Vitamin C 80.9%
Calcium 5% Iron 22.2%
*Based on a 2000 Calorie diet
Directions
1. Wash the dal. In a pressure cooker take four cups of water and add the dal and one tea spoon turmeric powder, one tea spoon salt.

2. Bring to boil and when stars steaming, reduce heat and cook for three minutes.

3. Cool and mash the dal with a large spoon.

4. Add, coriander powder, green chilies, sugar and remaining water. Bring to boil ,reduce heat and simmer for six to seven minutes.

5. Heat oil and ghee in a non-stick pan for one minute. Add chopped onion and garlic and fry till light brown. Add chopped tomato and cilantro and continue frying for two minutes. Add a pinch of hing and cook for a few seconds and remove from heat. Add red chili powder and dal immediately..

6. Serve hot with roti or steamed rice.

Yes, Dal is a great source of protein and also a great accompaniment with Rotis/Steamed White Rice.
Posted on:
7 January 2008 - 12:37pm

really this arahar dal recipe is very healthy. For Indian people this is a great source of protein.
Posted on:
7 January 2008 - 10:02am