»

Recipes

»

Pancake

»

Apricot Pancakes
Apricot Pancakes Recipe
Apricot Pancakes make a very healthy and wonderful breakfast. You can add more nutrition to the breakfast by mixing oats and nuts to it. Enjoy the pancake with some apricot sauce.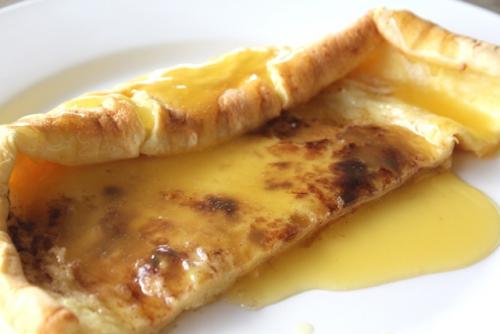 Ingredients
Eggs

3

Salt

1 Teaspoon

Sugar

1 1⁄2 Teaspoon

All purpose flour

1 Cup (16 tbs)

, sifted

Milk

2 Cup (32 tbs)

Butter

3 Tablespoon

, melted

Apricot nectar

2 Can (20 oz)

Orange rind

1 Tablespoon

, grated

Lemon juice

1 Tablespoon

Butter

2 Tablespoon

Apricot nectar

1 Tablespoon

Cointreau

1⁄4 Cup (4 tbs)
Nutrition Facts
Serving size
Calories 293 Calories from Fat 116
% Daily Value*
Total Fat 13 g20.2%
Saturated Fat 7.4 g37.1%
Trans Fat 0 g
Cholesterol 120.1 mg
Sodium 335.1 mg14%
Total Carbohydrates 34 g11.3%
Dietary Fiber 1.2 g4.8%
Sugars 17.9 g
Protein 7 g14%
Vitamin A 14.9% Vitamin C 30.3%
Calcium 9.8% Iron 8%
*Based on a 2000 Calorie diet
Directions
MAKING
1)In a bowl, beat eggs until light.
2)Add salt and sugar and continue beating.
3)Add flour, milk and butter and beat until smooth.
4)Take a lightly butter a small 6-inch hot skillet and drop batter on it and spread to cover bottom.
5)Cook on medium heat until delicately browned, turn and brown other side.
6)Transfer pancakes to a platter.
7)In a saucepan, mix nectar, orange rind, lemon juice and butter and cook about 5 minutes.
8)Spread some apricot preserves on pancake and roll up.
9)Take a large pan and arrange in a single layer.
10)In a saucepan, mix together sauce and Cointreau and stir well.
11)Pour about ¼ of the sauce on pancakes.
12)Put the pancakes in hot oven and heat about 5 minutes or until piping hot.

SERVING
14)Serve with remaining hot apricot sauce.