»

Recipes

»

Noodle

»

Noodle

»

Apricot Raisin Stuffed Noodles
Apricot Raisin Stuffed Noodles Recipe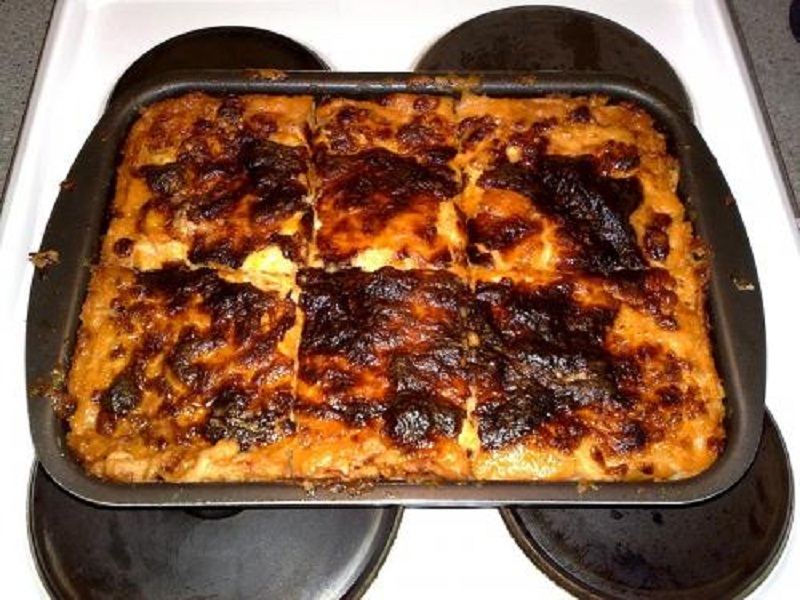 Summary
Preparation Time
10 Min
Cooking Time
30 Min
Ready In
40 Min
Difficulty Level
Easy
Ingredients
Eggs

4

Icing sugar

1 Cup (16 tbs)

Sour cream

1⁄2 Cup (8 tbs)

Butter

1⁄2 Cup (8 tbs)

, melted

Dried raisins

1⁄3 Cup (5.33 tbs)

Vanilla

1⁄4 Teaspoon

Salt

1⁄8 Teaspoon

Grated lemon rind

1⁄2 Teaspoon

Egg noodles

12 Ounce

, package-cooked according to package directions (Medium Or Broad)

Walnuts

3⁄4 Cup (12 tbs)

, chopped

Apricot jam

3⁄4 Cup (12 tbs)
Nutrition Facts
Serving size: Complete recipe
Calories 4673 Calories from Fat 1721
% Daily Value*
Total Fat 198 g305.1%
Saturated Fat 85.9 g429.5%
Trans Fat 0.2 g
Cholesterol 1433.4 mg
Sodium 708.4 mg29.5%
Total Carbohydrates 662 g220.5%
Dietary Fiber 18.7 g74.9%
Sugars 389.6 g
Protein 90 g180%
Vitamin A 93.5% Vitamin C 11%
Calcium 48.8% Iron 76.2%
*Based on a 2000 Calorie diet
Directions
GETTING READY
1. In a large bowl, add the eggs
2. Beat well
3. Add sugar, sour cream, butter and mix well
4. Add raisins, vanilla, salt and grated rind

MAKING
5. Add the cooked noodles
6. Tip in 1/3 of the mixture into the greased baking casserole
7. Sprinkle over the nuts
8. Tip in the half of the mixture over the nuts
9. Spread the jam on top and tip in half rest of the noodle mixture
10. Cook in moderate oven, 350°F., 25 minutes.
11. Reduce heat to 300 °F., and cook 10 minutes longer.

SERVING
12. Sprinkle with icing sugar and serve warm.