»

Recipes

»

Chicken

»

Apricot Glazed Chicken
Apricot Glazed Chicken Recipe
Apricot Glazed Chicken is chicken cooked in apricot preserves, chili sauce and mustard giving it an intense aroma and is truly mouthwatering experience! Give it a try. I bet you will love it!
Ruby Glazed Chicken Breasts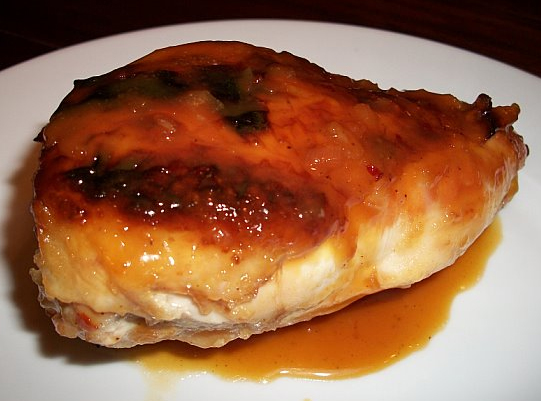 Ingredients
Salad oil

2 Tablespoon

2 whole large chicken breasts, each cut in half

Apricot preserves

1/3 Cup (16 tbs)

Chili Sauce

1 Tablespoon

Prepared mustard

2 Teaspoon

Salt

1/2 Teaspoon
Directions
In 12-inch skillet over medium heat, in hot salad oil, cook chicken breasts, turning occa sionally, until tender and browned on all sides, about 20 minutes. Stir in apricot preserves, chili sauce, mustard, and salt; heat through.