»

Recipes

»

Chutney
Apricot Chutney Recipe
Apricot Chutney has a great taste. Apricot Chutney gets its taste from apricot mixed with vinegar and chili powder. Apricot Chutney is served as side dish.
Apricot Chutney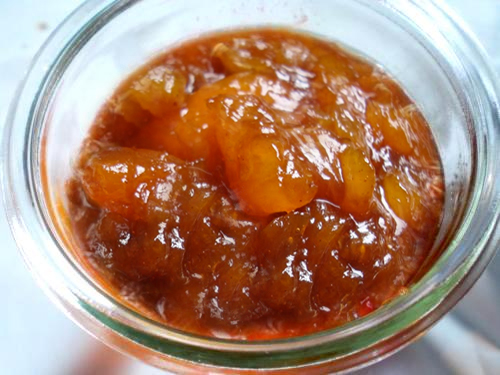 Summary
Difficulty Level
Easy
Cuisine
Indian
Ingredients
Vinegar

150 Milliliter

Dried apricots

225 Gram

, soaked overnight

Sugar

250 Gram

Ginger root

25 Gram

, peeled and crushed

Garlic

4 Clove (20 gm)

, crushed

Chili powder

1 Teaspoon

Salt

1 Pinch
Nutrition Facts
Serving size: Complete recipe
Calories 1602 Calories from Fat 19
% Daily Value*
Total Fat 2 g3.5%
Saturated Fat 0.25 g1.3%
Trans Fat 0 g
Cholesterol 0 mg
Sodium 338.5 mg14.1%
Total Carbohydrates 405 g134.9%
Dietary Fiber 19.1 g76.2%
Sugars 371.1 g
Protein 10 g19.9%
Vitamin A 191.9% Vitamin C 21.6%
Calcium 19% Iron 40.3%
*Based on a 2000 Calorie diet
Directions
Place the apricots and the soaking liquid with enough water to cover in a saucepan.
Simmer until tender then beat or blend to a smooth consistency.
In a separate pan place the vinegar, sugar, ginger, garlic, chilli powder and salt.
Heat gently, stirring, until the sugar has dissolved, then increase the heat until a syrup is formed.
Stir the apricots into the syrup and simmer, gently for about 10 minutes to the desired thickness.
Allow to cool and bottle in airtight jars with vinegar proof tops.