»

Recipes

»

Dumpling

»

Stuffed Apple Dumplings
Stuffed Apple Dumplings Recipe
Food never got this fresh, exciting and delicious as apple dumpling. Apple dumplings is my all-time family favorite and is specially made to taste great! Devour in the goodness.
Apple Dumplings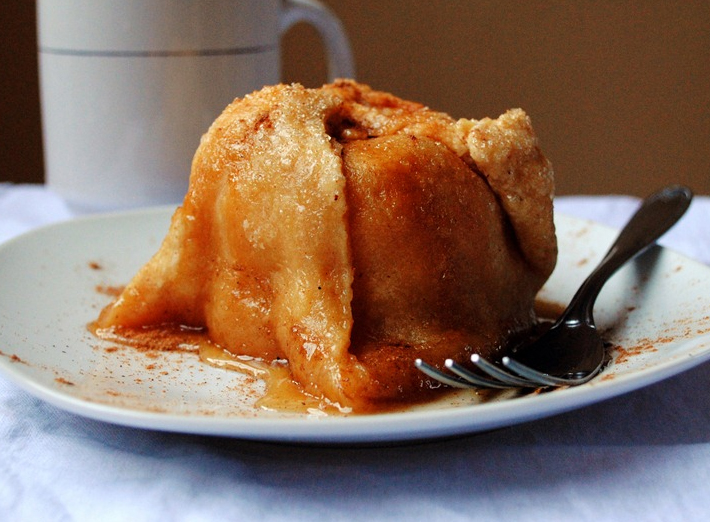 Summary
Difficulty Level
Easy
Health Index
Average
Ingredients
Short crust pastry

8 Ounce

Apples

6 Medium

Sugar

1 As Required

(for sprinkling)
Nutrition Facts
Serving size: Complete recipe
Calories 668 Calories from Fat 143
% Daily Value*
Total Fat 16 g24.6%
Saturated Fat 6.1 g30.5%
Trans Fat 0 g
Cholesterol 0 mg
Sodium 8.8 mg0.4%
Total Carbohydrates 139 g46.4%
Dietary Fiber 21 g84.1%
Sugars 91.5 g
Protein 5 g9.5%
Vitamin A 9.5% Vitamin C 67.2%
Calcium 5.3% Iron 5.8%
*Based on a 2000 Calorie diet
Directions
Peel the apples and core.
Fill the center with caster sugar.
Roll the pastry 1/8th" thick and cut 6 circles large enough to cover the apples.
Put an apple in each and work the dough over the apple, pressing the edges, slightly moisten- ed, together.
Brush with cold water and sprinkle with caster sugar, or paint with a little milk.
Bake in a moderately hot oven till the apples are tender and the pastry crisp.