»

Recipes

»

Dumpling

»

Apple Dumplings
Apple Dumplings Recipe
This Apple Dumplings is a great Side Dish! A guaranteed hit each time, you may want to keep a stock of apples at all times!
Apple Dumplings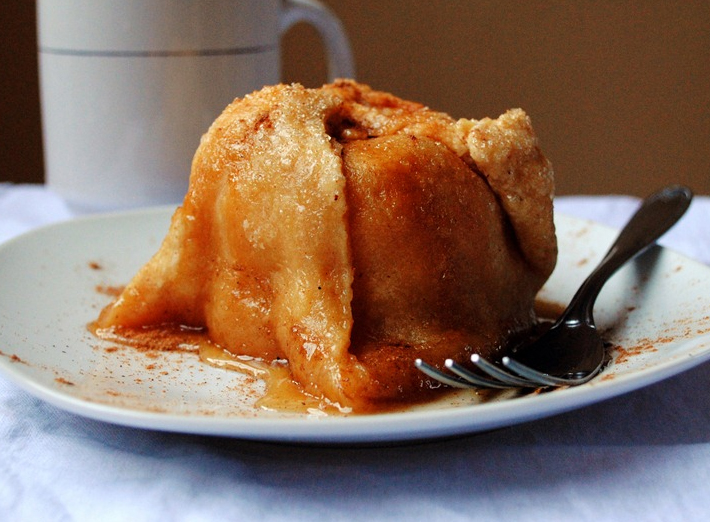 Ingredients
Sifted flour

2 2⁄3 Cup (42.67 tbs)

Salt

1 1⁄4 Teaspoon

Shortening

1 Cup (16 tbs)

Red cinnamon candies

1⁄2 Cup (8 tbs)

Tart apples

6 Medium

Cream

1 Tablespoon

Confectioner' s sugar

2 1⁄3 Cup (37.33 tbs)

Pecans

1⁄3 Cup (5.33 tbs)

, chopped

Nutmeg

1⁄4 Teaspoon
Nutrition Facts
Serving size: Complete recipe
Calories 6584 Calories from Fat 2110
% Daily Value*
Total Fat 240 g369.8%
Saturated Fat 55.3 g276.3%
Trans Fat 27 g
Cholesterol 1.1 mg
Sodium 2511.1 mg104.6%
Total Carbohydrates 1065 g354.9%
Dietary Fiber 27 g108.1%
Sugars 723 g
Protein 39 g78%
Vitamin A 1% Vitamin C 2109.7%
Calcium 66.2% Iron 93.1%
*Based on a 2000 Calorie diet
Directions
MAKING
1) In a bowl, combine flour and salt.
2) Cut in some shortening till the mix resembles bread crumbs.
3) Sprinkle with 6 1/2 tablespoons cold water and mix well.
4) Equally divide the mix into 6 parts.
5) Lightly flour a surface and roll out each part of dough to a 7-inch square.
6) In a saucepan, place the cinnamon candies and 1/4 cup water.
7) Stir constantly and cook till the candies dissolve.
8) Add in 1/3 cup confectioners' sugar, pecans, and nutmeg.
9) Peel and core the apples.
10) Place 1 apple on each pastry square.
11) Add the pecan mix into the hole.
12) Using cream moisten the edges of the squares.
13) Fold over the opposite corners of the pastry over the apples and press together.
14) Brush with cream and arrange on a baking sheet.
15) Place in the oven at 400 degrees and bake for 35 minutes, till brown.
16) In a bowl, mix 2 cups confectioners' sugar with only enough cream to moisten.
17) Add into the hot dumplings.

SERVING
18) serve.