»

Recipes

»

Pie

»

Apple Crumb Pie
Apple Crumb Pie Recipe
Apple crumb pie recipe made with apples,nutmegs,cinnamon,butter.A delicious Apple Crumb pie recipe.A classic Christmas Apple Crumb Pie recipe.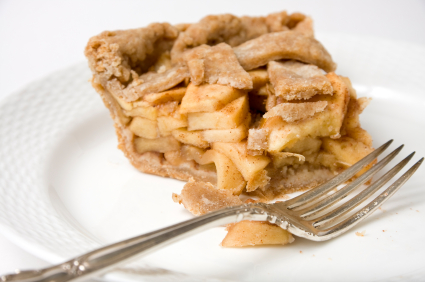 Summary
Preparation Time
5 Min
Cooking Time
50 Min
Ready In
55 Min
Difficulty Level
Medium
Ingredients
Apples

4 Cup (64 tbs)

(tart)

Butter

2 Tablespoon

Sugar

3⁄4 Cup (12 tbs)

Nutmeg

1⁄2 Tablespoon

Cinnamon

1 Tablespoon

Brown sugar

1⁄2 Cup (8 tbs)

All purpose flour

1⁄4 Cup (4 tbs)

Butter

1⁄4 Cup (4 tbs)

, melted

Nuts

1⁄2 Cup (8 tbs)

, chopped (pecans)

Pie crust

1
Nutrition Facts
Serving size: Complete recipe
Calories 3719 Calories from Fat 1534
% Daily Value*
Total Fat 171 g263.2%
Saturated Fat 75.4 g377%
Trans Fat 0 g
Cholesterol 185.5 mg
Sodium 1231.3 mg51.3%
Total Carbohydrates 553 g184.4%
Dietary Fiber 41.3 g165.4%
Sugars 354.8 g
Protein 30 g59.4%
Vitamin A 54.5% Vitamin C 74.9%
Calcium 37.5% Iron 35.7%
*Based on a 2000 Calorie diet
Directions
Core, peel and slice the apples. Melt the butter and mix the rest of the ingredients with
it. Pour over apples and mix around so the apples are coated. Put in an
unbaked pie shell.
Combine brown sugar, flour, melted butter and nuts. Spread over top of the
filling. Bake at 375 degrees F. for 50 minutes, or until it starts to bubble.
NOTES:
* One-crust apple-crumb pie -- The pie can also be frozen and then baked,
right from the freezer, at 360 for 90 minutes.
*For those who like the quality of home-made pie crusts but the
convenience of ready-made, make a bunch of crusts someday when the mood
grabs you, and put them in the freezer in a big plastic bag.