»

Recipes

»

Sorbet

»

Apple Sorbet
Apple Sorbet Recipe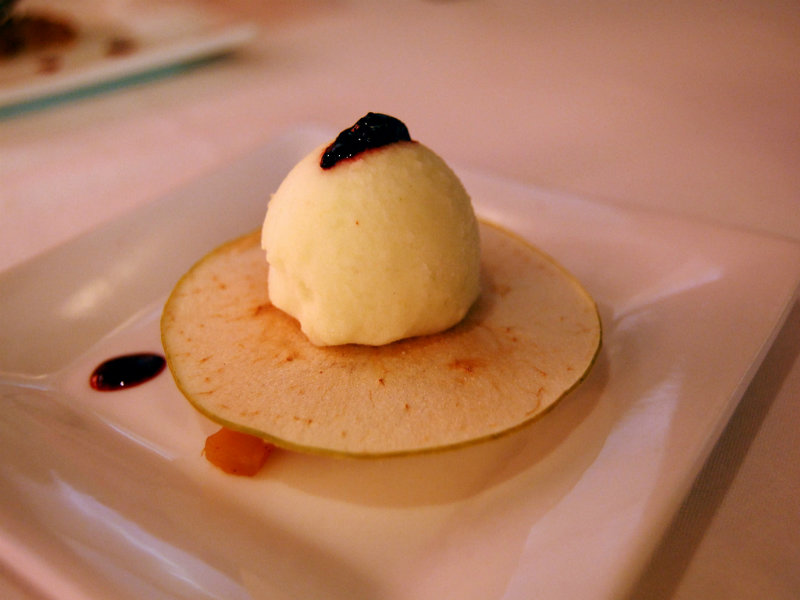 Ingredients
Dry white wine

1⁄4 Pint

(150 Milliliter)

Soft light brown sugar

2 Ounce

(50 Gram)

Lemon rind strip

1

(Thin Strip)

Lemon juice

2 Tablespoon

Fresh root ginger

1 Small

, peeled

Cooking apples

1 Pound

, peeled, cored and sliced (500 Gram)

Egg whites

2

Herb leaves

1 Teaspoon

(Small Leaves Such As Lemon Geranium, To Decorate)
Nutrition Facts
Serving size: Complete recipe
Calories 624 Calories from Fat 10
% Daily Value*
Total Fat 1 g1.9%
Saturated Fat 0.22 g1.1%
Trans Fat 0 g
Cholesterol 0 mg
Sodium 115.3 mg4.8%
Total Carbohydrates 135 g45.1%
Dietary Fiber 13 g51.9%
Sugars 107.4 g
Protein 9 g17.6%
Vitamin A 8.1% Vitamin C 86%
Calcium 6.8% Iron 7.4%
*Based on a 2000 Calorie diet
Directions
MAKING
1) In a saucepan, combine the sugar, wine, lemon rind and juice and ginger, stir over a low heat to dissolve the sugar. Then allow to boil on a high heat.
2) Add and poach the apple slices for 8-10 minutes until soften, turn off the heat and allow to cool.
3) In a food processor or liquidizer, puree the fruit and discard the lemon rind and ginger. In a freezer container, pour the mixture and then cover and freeze for an hour.
4) Stiffly beat the egg whites, remove the frozen mixture into a chilled bowl, then beat and fold in the egg whites.
5) Freeze the mixture for another 3 to 4 hours, until set.

SERVING
6) Slightly soften the sorbet, scoop out, garnish with a few herb leaves and serve immediately.
Image Courtesy :
http://www.flickr.com/photos/stuart_spivack/2572056962/