»

Recipes

»

Pudding

»

Apple Bread Pudding
Apple Bread Pudding Recipe
The Apple Bread Pudding is the first choice of dessert at home. Why? You would understand why, if you would taste this purely delightful dessert at least once.. So try it and discover the wonder of the Apple Bread Pudding!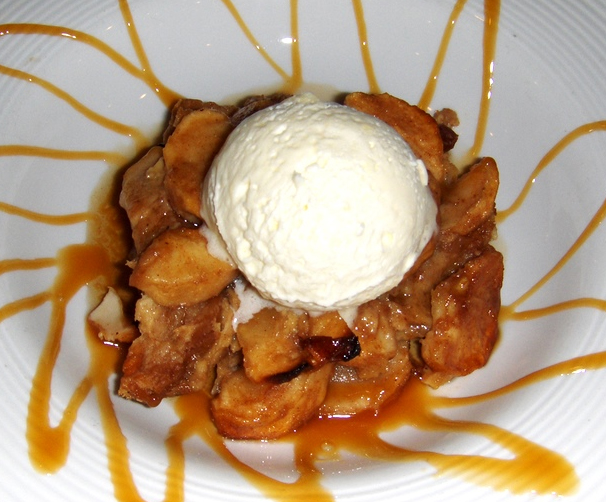 Ingredients
Bread slice

4

, toasted

1 1/2 cups reconstituted nonfat dry milk

Eggs

2

Sugar

1/3 Cup (16 tbs)

Raisins

1/4 Cup (16 tbs)

1 apple, peeled, cored, and diced

Ground cinnamon

1/2 Teaspoon

Salt

1/4 Teaspoon

Ground nutmeg

1/4 Teaspoon

Packed brown sugar

1 Tablespoon
Directions
Cut bread into 1/2-inch cubes.
Turn into 9x9x2-inch baking dish.
Heat milk; pour over bread and let stand 20 minutes.
Beat eggs till light; add sugar, raisins, apple, cinnamon, salt, and nutmeg.
Stir into bread mixture.
Sprinkle brown sugar over.
Place casserole in larger shallow pan on oven rack.
Pour hot water around casserole in pan to depth of 1 inch.
Bake at 350° for 65 minutes.
Serve with ice cream.
Image Courtesy :
http://www.flickr.com/photos/donutgirl/2912554893/