»

Recipes

»

Indian

»

Appam

»

Appam-South Indian Delight
Appam-South Indian Delight Recipe
One of my favourite breakfast is appam with fresh coconut syrup-terribly decandent. I usually only ate this once per stay, when I stayed at the malabar in Kochi as it is toooo good. They are easy to make, but they take a little practice to make perfect. The ingredients for Appam batter need to be soaked overnight so factor in the time to prepare ahead.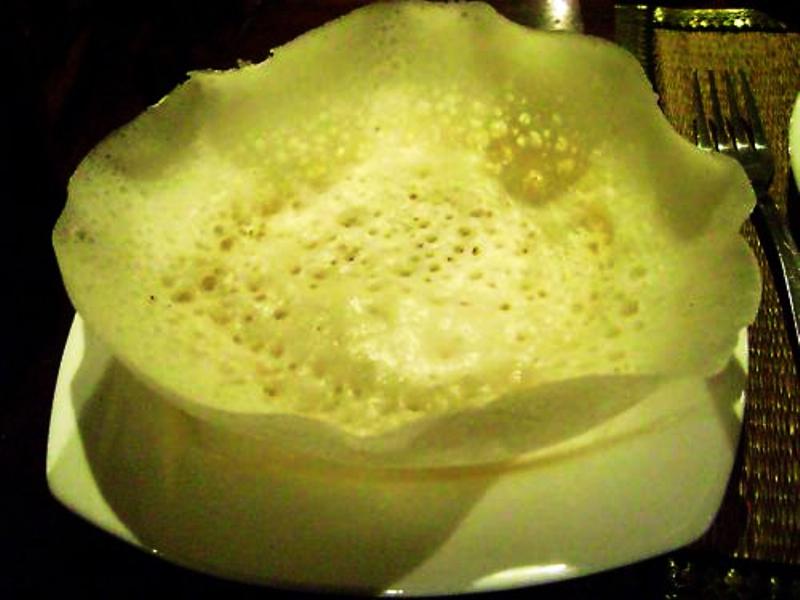 Summary
Preparation Time
15 Min
Cooking Time
10 Min
Ready In
25 Min
Difficulty Level
Medium
Health Index
Average
Servings
6
Ingredients
Basmati rice

3 Cup (48 tbs)

(raw)

Cooked basmati rice

1 Cup (16 tbs)

Coconut milk

1 Cup (16 tbs)

Salt

1 Teaspoon

Sugar

1 Teaspoon

Dried yeast

1 Teaspoon

Milk

100 Milliliter
Nutrition Facts
Serving size
Calories 495 Calories from Fat 97
% Daily Value*
Total Fat 12 g17.8%
Saturated Fat 9.6 g48.2%
Trans Fat 0 g
Cholesterol 1.7 mg
Sodium 341.5 mg14.2%
Total Carbohydrates 88 g29.2%
Dietary Fiber 2.5 g9.8%
Sugars 3.3 g
Protein 9 g18.6%
Vitamin A 0.3% Vitamin C 2%
Calcium 5.6% Iron 11%
*Based on a 2000 Calorie diet
Directions
GETTING READY
1. Wash and then soak the raw Basmati rice in a large bowl for 4-5 hours or over night.
2. Once soaked, mix the raw and cooked rice together in a food processor. Add the coconut milk to the mix and blend till a smooth paste is formed.
3. Pour the batter into a bowl. Add a little water at a time if needed to get a batter with pouring consistency - like thin pancake batter.
4. Warm a cup of water till tepid. Add the sugar, salt and yeast to this water and stir. Add this to the above batter and mix well. Leave the batter overnight at room temperature to ferment.

MAKING
5. When you are ready to make the Appams, heat a small non-stick kadhai (wok) on medium flame and pour a ladle of batter into the center. Quickly swirl the kadhai to spread the batter thinly on the walls. What has not stuck to the walls of the kadhai should pool in the bottom (Appams should look like a bowl with thick bottom!).
6. Cover the kadhai and cook for 3-4 minutes or until the Appam is golden and crispy on its thin edges and cooked and fluffy at the bottom.
7. Gently run a spatula under the Appam to release it from the kadhai.

SERVING
8. Serve hot in a small basket with vegetable korma or any choice of dish.