»

Recipes

»

Jewish

»

Apfelstrudel
Apfelstrudel Recipe
Do you want to impress your guests, and then there would be no better option than this apfelstrudel recipe. This dessert is so delicious that your guests would be obsessed by it. So do not procrastinate, try this apfelstrudel recipe.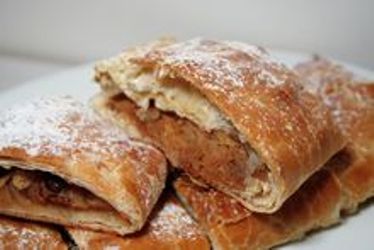 Ingredients
Ripe soft apples

1 Kilogram

(soft)

Cinnamon

1 Teaspoon

Sugar

2 Tablespoon

Breadcrumbs

1 Cup (16 tbs)

Raisins

100 Gram

Grated lemon peel

1 Tablespoon

(and/or a few finely chopped nuts)

Butter/Egg yolk

1 Tablespoon
Nutrition Facts
Serving size
Calories 197 Calories from Fat 23
% Daily Value*
Total Fat 3 g4.1%
Saturated Fat 1.4 g7%
Trans Fat 0 g
Cholesterol 5.4 mg
Sodium 55.1 mg2.3%
Total Carbohydrates 46 g15.4%
Dietary Fiber 5.5 g22%
Sugars 32.6 g
Protein 2 g3.2%
Vitamin A 3.1% Vitamin C 18.8%
Calcium 4.2% Iron 4.9%
*Based on a 2000 Calorie diet
Directions
Stage 1-Cut the apples into very thin slices and stew them for a minutes with the sugar and the cinnamon.

Stage 2-Brush the Strudel dough with some melted butter and sprinkle it with breadcrumbs.

Stage 3-Spread the apples and the raisins evenly on top of it.

Stage 4-If desired add some chopped nuts and/or grated lemon peel.

Stage 5-By lifting the cloth on one side, roll up the Strudel.

Stage 6-Let it slide from the cloth onto a buttered baking sheet.

Stage 7-Brush the Strudel with some melted butter or egg yolk. Depending on the size it should bake for 25 to 30 minutes in a fairly hot oven on 350 degree fareinhite .