»

Recipes

»

Pecan

»

Pecan Crisps
Pecan Crisps Recipe
Pecan crisps recipe is such an easy, simple and quick one to make and serve. A good snack option, you can pack it in your child's lunch box as school snack. Learn this recipe of pecan crisps and make any variations as desired.
Pecan Crisp Cookie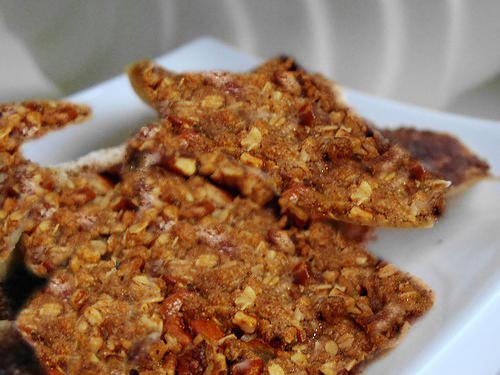 Ingredients
Butter

1 Cup (16 tbs)

Brown sugar

2 Cup (32 tbs)

, firmly packed

Eggs

2 Small

Cake flour

2 Cup (32 tbs)

, sifted

Salt

1⁄2 Teaspoon

Baking powder

2 Teaspoon

Hot water

2 Tablespoon

Dates

1⁄2 Cup (8 tbs)

, chopped

Pecans

1⁄2 Cup (8 tbs)

, chopped
Nutrition Facts
Serving size
Calories 253 Calories from Fat 106
% Daily Value*
Total Fat 12 g18.6%
Saturated Fat 6.1 g30.5%
Trans Fat 0 g
Cholesterol 40.3 mg
Sodium 94.6 mg3.9%
Total Carbohydrates 36 g11.9%
Dietary Fiber 2.2 g8.9%
Sugars 23 g
Protein 3 g6.1%
Vitamin A 6% Vitamin C 0.09%
Calcium 5.6% Iron 1.4%
*Based on a 2000 Calorie diet
Directions
MAKING
1)In a bowl, beat together shortening and sugar until light and fluffy.
2)Add egg and vanilla and beat well.
3)In another bowl, sift together flour, salt and baking powder.
4)Add half of the flour to the creamed mixture and blend well.
5)Add hot water and remaining flour and blend well.
6)Now, add dates and pecans.
7)Take greased baking sheets and drop level spoonsful of batter on it.
8)Press cookies lightly with the tines of a fork.
9)Bake at 350 degrees for 10 to 15 minutes.

SERVING
10)Serve Pecan crisps when desired.