»

Recipes

»

Cake

»

Angel Cake
Angel Cake Recipe
Angel Cake is lip smacking yummy! This delicious cake is incomparable and so difficult to resist. Try this excellent Angel Cake recipe.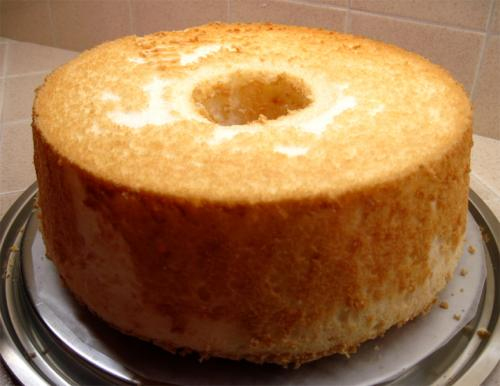 Ingredients
Eggs whites

8

Flour

3⁄4 Cup (12 tbs)

(Cake Or Pastry)

Cream of tartar

1 Teaspoon

Salt

1⁄4 Teaspoon

Fine sugar

1 Cup (16 tbs)

Vanilla

3⁄4 Teaspoon
Nutrition Facts
Serving size: Complete recipe
Calories 1250 Calories from Fat 11
% Daily Value*
Total Fat 1 g2%
Saturated Fat 0.15 g0.73%
Trans Fat 0 g
Cholesterol 0 mg
Sodium 874.4 mg36.4%
Total Carbohydrates 277 g92.2%
Dietary Fiber 2.5 g10.2%
Sugars 202.2 g
Protein 35 g69.9%
Vitamin A Vitamin C
Calcium 3.3% Iron 26.4%
*Based on a 2000 Calorie diet
Directions
Beat the whites of eggs until frothy.
Add cream of tartar and continue beating until eggs are stiff; then add sugar gradually.
Sift flour, measure, add salt and sift flour four times.
Fold in flour and add vanilla.
Bake in an ungreased tube pan, 50 to 60 minutes.
Invert to cool before removing from pan.