»

Recipes

»

Indian

»

Andhra

»

Andhra Special Bachala Kura Pulusu
Andhra Special Bachala Kura Pulusu Recipe
Chinese spinach is nutritious and good for health. It is very important to incorporate leaf vegetables in your diet. The pulusu variety gives it a nice tangy taste and is quite enjoyable.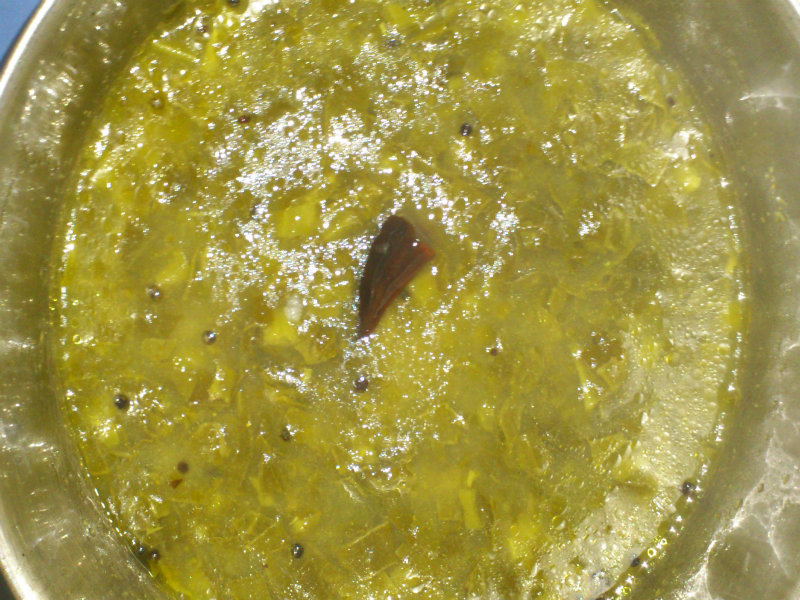 Summary
Preparation Time
15 Min
Cooking Time
15 Min
Ready In
30 Min
Difficulty Level
Easy
Health Index
Healthy
Servings
4
Ingredients
Chinese spinach

4 Cup (64 tbs)

(Seperate the leaves from the stalk.)

Tamarind

5 Gram

Tumeric powder

1⁄2 Teaspoon

Mustard seeds

1⁄2 Teaspoon

Rice flour

1 Teaspoon

Fenugreek seeds

1⁄4 Teaspoon

Cumin seeds

1⁄2 Teaspoon

Red chili

2

Green chili

2

Oil

2 Teaspoon

Water

2 1⁄4 Cup (36 tbs)

Salt

To Taste
Nutrition Facts
Serving size
Calories 49 Calories from Fat 27
% Daily Value*
Total Fat 3 g4.7%
Saturated Fat 0.41 g2%
Trans Fat 0 g
Cholesterol 0 mg
Sodium 105.6 mg4.4%
Total Carbohydrates 5 g1.7%
Dietary Fiber 0.61 g2.4%
Sugars 1.3 g
Protein 1 g2.9%
Vitamin A 19.8% Vitamin C 54.3%
Calcium 7.8% Iron 9.4%
*Based on a 2000 Calorie diet
Directions
MAKING:
1.Pressure cook Chinese spinach leaves, tamarind, turmeric powder, salt and 2 cups of water for 2 whistles.
2.After it cools, mash the ingredients with a ladle.
3.Grind mustard seeds , green chili and add it to the rice flour and ¼ cup water to bring to a liquid like consistency.
4.Pour the mustard and flour liquid mixture into the mashed leaves mixture and mix it well.
5.Prepare seasoning by heating oil and adding cumin seeds, fenugreek seeds and red chili.
6.Once it crackles , pour the seasoning into the above mixture and simmer it to a minute or two.

SERVING:
7.Serve it hot with rice and ghee.