»

Recipes

»

Bread

»

Crusty Anadama Bread
Crusty Anadama Bread Recipe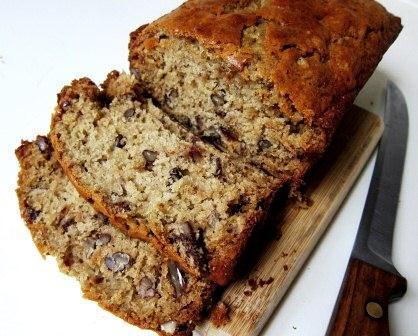 Ingredients
Whole wheat flour

1 1⁄2 Cup (24 tbs)

Salt

3⁄4 Teaspoon

Baking soda

1⁄2 Teaspoon

Active dry yeast

1 Tablespoon

(1 Package)

Salad oil

2 1⁄2 Tablespoon

Light molasses

1⁄3 Cup (5.33 tbs)

Warm water

18 Tablespoon

(120° To 130°, 1 Cup Plus 2 Tablespoons)

All purpose flour

3 Cup (48 tbs)

Mashed ripe banana

1⁄2 Cup (8 tbs)

Diced pitted dates

1 Cup (16 tbs)

Cornmeal

1 Teaspoon
Nutrition Facts
Serving size: Complete recipe
Calories 3397 Calories from Fat 401
% Daily Value*
Total Fat 46 g70.5%
Saturated Fat 3.1 g15.4%
Trans Fat 0.7 g
Cholesterol 0 mg
Sodium 2219 mg92.5%
Total Carbohydrates 681 g226.9%
Dietary Fiber 58.5 g234.1%
Sugars 175.6 g
Protein 72 g143.2%
Vitamin A 0.4% Vitamin C 0.07%
Calcium 45.4% Iron 205.9%
*Based on a 2000 Calorie diet
Directions
In a large bowl, mix together whole wheat flour, the 3/4 cup cornmeal, salt, baking soda, and yeast.
Stir in oil, molasses, and the warm water; beat (at medium speed for 2 minutes if using electric mixer).
Add 1/4 cup of the all-purpose flour and beat (at high speed for 2 minutes with electric mixer).
With a heavy duty mixer or wooden spoon, stir in the banana and about 2 1/2 cups of the all-purpose flour—enough to make a stiff dough.
Turn dough out onto a floured board and knead until smooth, adding all-purpose flour as necessary to prevent sticking.
Knead dates into dough, a portion at a time.
Turn dough over in a greased bowl.
Cover and let rise in a warm place until doubled (about 1 1/2 hours).
Grease a 9-inch pie pan and sprinkle with the 1 teaspoon cornmeal.
Punch down dough, knead a few times, then shape into a smooth ball.
Place in pie pan; cover and let rise in a warm place until almost doubled (about 45 minutes).
Bake in a 375° oven until browned (35 to 40 minutes).
Turn out onto a rack to cool.