»

Recipes

»

Bread
Anadama Bread Recipe
Anadama bread is a special Milanese bread. This anadama bread is prepared with molasses and mixed flour. Baked with a batter of cornmeal and flour with eggs, the anadama bread is yeast leavened and can be used as an accompaniment for meals.
Anadama bread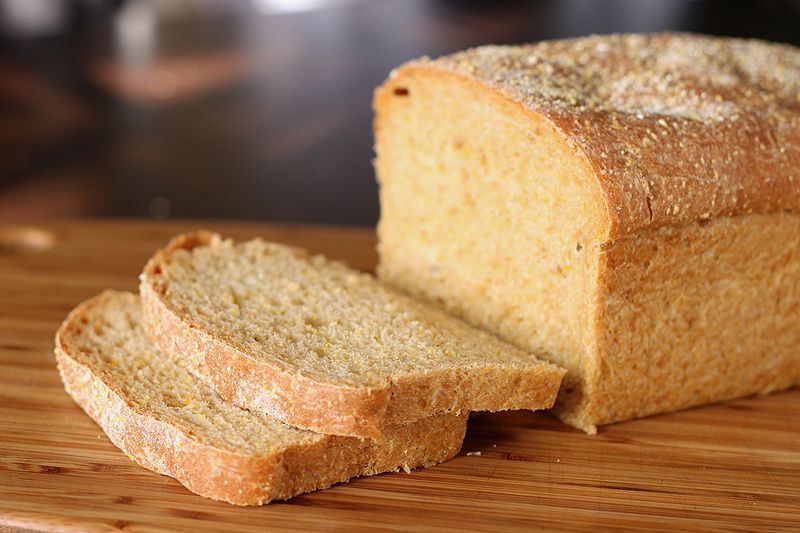 Ingredients
Cornmeal

1⁄2 Cup (8 tbs)

Shortening

3 Tablespoon

Molasses

1⁄4 Cup (4 tbs)

Salt

2 Teaspoon

Water

3⁄4 Cup (12 tbs)

Active dry yeast/1 cake compressed

1

Warm water

1⁄4 Cup (4 tbs)

Egg

1

, beaten

All purpose flour

3 Cup (48 tbs)

, sifted
Nutrition Facts
Serving size: Complete recipe
Calories 2368 Calories from Fat 498
% Daily Value*
Total Fat 57 g87.1%
Saturated Fat 13.8 g69%
Trans Fat 5.9 g
Cholesterol 211.5 mg
Sodium 4017.3 mg167.4%
Total Carbohydrates 411 g137%
Dietary Fiber 16 g63.9%
Sugars 48.7 g
Protein 52 g103%
Vitamin A 4.9% Vitamin C
Calcium 26.5% Iron 139.5%
*Based on a 2000 Calorie diet
Directions
Combine corn meal, shortening, molasses, salt, and boiling water in a large bowl.
Let stand until lukewarm.
Sprinkle yeast over warm water to dissolve, then stir yeast, egg, and half of the flour into corn meal mixture.
Beat vigorously.
Stir in remaining flour and mix thoroughly until dough forms a soft ball.
Use your hand if it seems easier.
Transfer to a greased loaf pan, cover with a cloth, and set in a warm place until dough reaches 1 inch above the pan.
Sprinkle top with a little corn meal and salt.
Bake in a preheated 350° oven for 50 to 55 minutes.
Cool before slicing.