»

Recipes

»

Indian

»

Aloo

»

Jhuri Aloo Bhaja
Jhuri Aloo Bhaja Recipe
I like this Aloo Jhuri Bhaja recipe. My grand mother used to make this Aloo Jhuri Bhaja recipe whenever I visited her. This reminds me of sweet memories of childhood.Aloo Jhuri Bhaja is a crispy Indian vegetable dish. It can be eaten for breakfast or lunch. Aloo Jhuri Bhaja goes well with plain rice and dal. You should try this Aloo Jhuri Bhaja Recipe.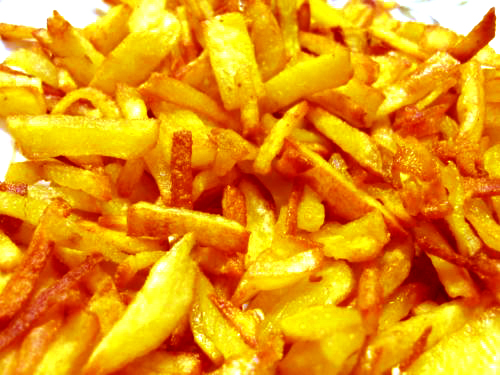 Ingredients
Potato

2

, finely chopped

Salt

1 Teaspoon

Water

3 Cup (48 tbs)

Cooking oil

1⁄2 Cup (8 tbs)
Nutrition Facts
Serving size
Calories 357 Calories from Fat 280
% Daily Value*
Total Fat 32 g48.8%
Saturated Fat 4.5 g22.6%
Trans Fat 0 g
Cholesterol 0 mg
Sodium 490.5 mg20.4%
Total Carbohydrates 18 g6.1%
Dietary Fiber 2.2 g8.8%
Sugars 0.8 g
Protein 2 g4%
Vitamin A 0% Vitamin C 32.8%
Calcium 1.2% Iron 4.4%
*Based on a 2000 Calorie diet
Directions
1. Cutting the potato properly is the main step. First remove the potato skin with a peeler. Cut fine round slices of potato. Then take a bunch of the round slices and cut them lengthwise finely.

2. Alternatively you can use a food processor to cut the potatoes. It is fast and easy.

3. Wash the potato properly under running water.

4. Mix the salt and water and soak the potato for 30 min.

5. Heat oil in a frying pan. Take a handful of soaked potato. Strain the water, and deep fry.

6. Goes well as a side dish with hot rice and butter, or with masur dal.