»

Recipes

»

Indian

»

Aloo

»

Aloo Ki

»

Aloo Posto
Aloo Posto Recipe
My family loves this easy and simple Aloo Posto Recipe. Aloo Posto is a very popular marriage party dish in India. It is generally eaten during Lunch. Aloo Posto goes well with poori , but it can also be eaten with plain rice . Cook, share and enjoy this Aloo Posto recipe.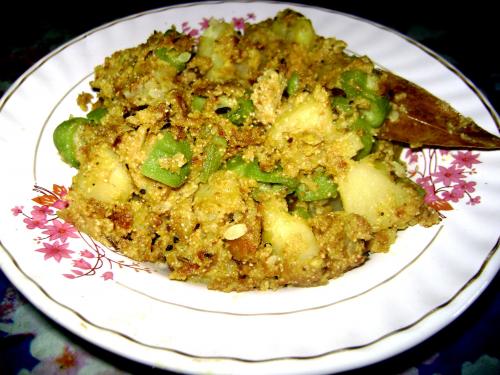 Ingredients
Potatoes

4

Oil

1 Cup (16 tbs)

3 Gren chillies

2 Bay leafs

Green chillies

3

(Grind to paste:)

Turmeric powder

1/2 Teaspoon

(Grind to paste:)

Poppy seeds

2 Tablespoon

(Grind to paste:)

Salt

To Taste

(Grind to paste:)
Directions
Boil, peel and cut the potatoes into thick cubes.
Mix the ground paste with 1 Tbsp of water, and smear the potato cubes.
Heat the oil. First fry the bayleafs and chillies.
Then add the potatoes and fry on low heat , stirring all the while.

This Aloo posto recipe is very popular in bihar.with plain rice ...it is delicious.
Posted on:
7 January 2008 - 9:56am