»

Recipes

»

Indian

»

Paratha

»

Aloo Paratha
Aloo Paratha Recipe
Aloo Paratha is originally/actually made in a 'tandoor' or clay oven just like most other Indian Breads. But, it can also be made at home, either pan-fried or baked in an oven. The home-made version of Aloo Paratha may not be as soft as the 'tandoor' version but it definetly wont drip of butter either and yet is equally tasty and satisfying to the tummy. The spice levels of the potato mixture can be adjusted to ones palate. Unlike in restaurants, where the paratha is made completely with All-Purpose flour, I have also added wheat flour to the recipe just so to make it a little healthier and also makes it easier to roll, flatten and pan-fry the parathas. Aloo parathas taste best when served immediately from the 'tava'.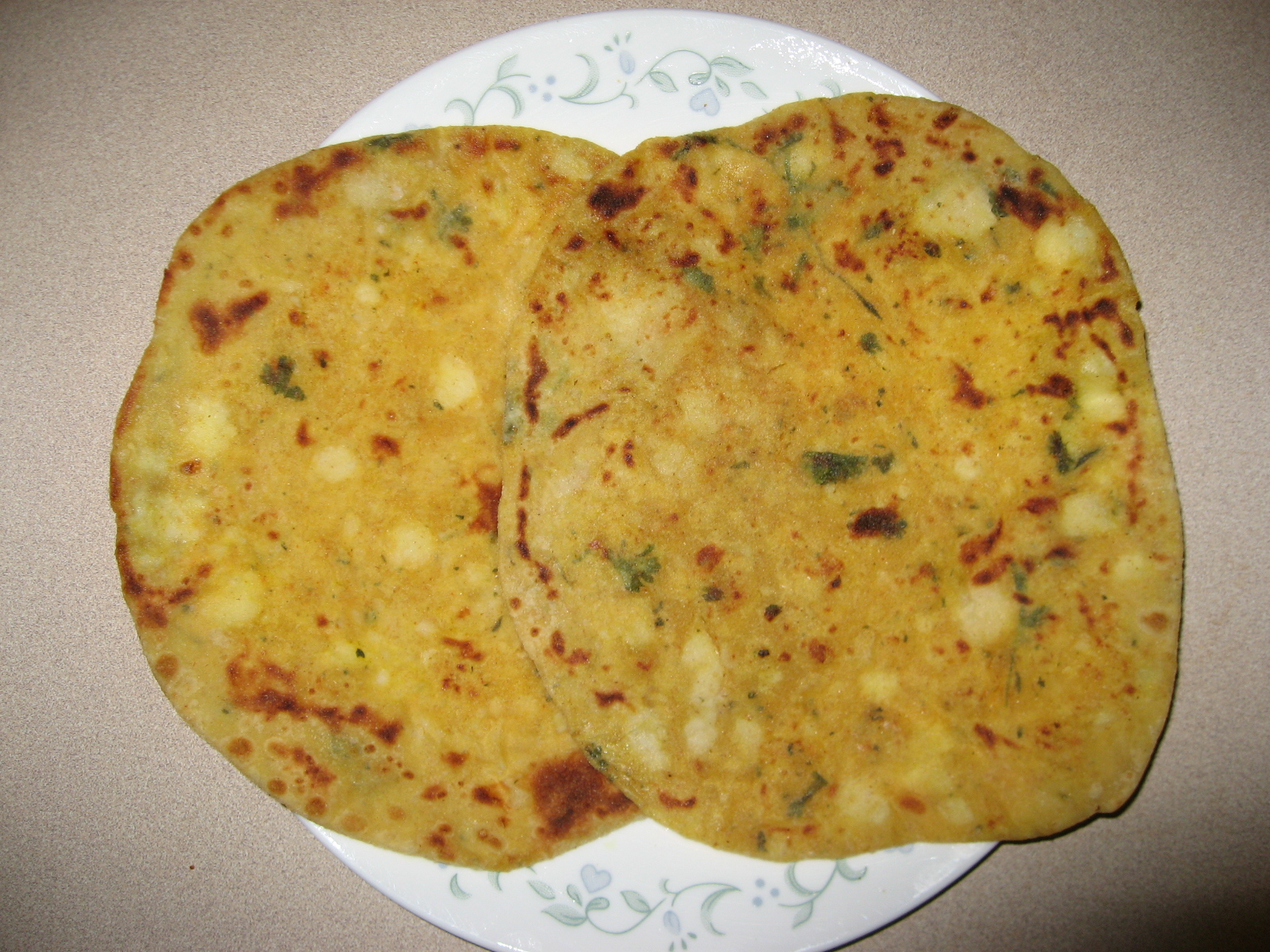 Ingredients
Golden potatoes

5 Large

Amchur

3 Pinch

Turmeric powder

4 Pinch

Coriander powder

1⁄4 Teaspoon

(dhaniya powder)

Garam masala powder

1⁄4 Teaspoon

Ginger garlic paste

1⁄2 Teaspoon

Lime juice

3 Tablespoon

Coriander

1⁄4 Bunch (25 gm)

, chopped (cilantro)

Salt

To Taste

Chilli powder

To Taste

Cumin seeds

1⁄2 Teaspoon

(jeera seeds)

Green chillies

4

, finely chopped

All purpose flour

2 Cup (32 tbs)

(maida)

Wheat flour

3⁄4 Cup (12 tbs)

(atta)

Unsalted butter

2 Tablespoon

Warm water

1 Cup (16 tbs)

Oil

10 Teaspoon
Nutrition Facts
Serving size
Calories 312 Calories from Fat 72
% Daily Value*
Total Fat 8 g12.6%
Saturated Fat 2.3 g11.6%
Trans Fat 0 g
Cholesterol 6.5 mg
Sodium 67 mg2.8%
Total Carbohydrates 55 g18.4%
Dietary Fiber 5.5 g21.9%
Sugars 1.8 g
Protein 7 g14.5%
Vitamin A 6.7% Vitamin C 68.9%
Calcium 3.5% Iron 17.3%
*Based on a 2000 Calorie diet
Directions
Peel, Boil and Mash potatoes.

Add dhaniya powder, garam masala powder, amchur powder (optional, if you like its tangy taste), juice of lime, ginger-garlic paste, salt, chilly powder, turmeric powder and cilantro to the mashed potato mixture and knead well.

Heat 2 tbs oil in a skillet. Add cumin seeds and allow them to sizzle. Add chopped curry leaves and finely chopped green chillies.

Add the mashed potato mixture, mix well and continue to cook until the sides of the potato mixture begin to brown slightly.

Be careful not to burn the mixture or over cook it. The mixture should just brown lightly at the bottom and the sides. Keep the mixture aside.

In a large mixing bowl, combine both the flours. Add melted butter and warm water and knead the flour well. It should form in a soft and supple ball. Add more water/flour if required.

To make the parathas
-------------------------

Divide the dough into small table-tennis sized balls.
With the help of a rolling-pin, flatten a ball into a disc shape.
Take a smaller sized ball of the mashed potato mixture and place it in the center of this flour-disc
Cover the potato mixture from all sides with the ends of the flour-disc.
Remove excess dough if any & flatten this ball into the shape of a medium sized disc with the help of a rolling pin.
If you feel that the dough is sticking to the rolling pin, then sprinkle some more all-purpose flour/maida & continue rolling.
Repeat procedure with the remaining potato mixture.
Left-over potato mixture can be stored in an airtight container in the refrigerator for upto 5 days.
Pan fry each paratha until golden brown. You may also smear a little butter on each side when frying.

Serve hot with any Indian pickle/raita.

wow i tried zis 1 n it was soo delicious i rily njoyed it fnx :)
Posted on:
17 February 2011 - 8:21am

Thank you faziana
Posted on:
17 February 2011 - 11:39am

Ramavijay says :
Wow! This Aloo Paratha makes a tasty breakfast! My family loves it with green chutney & curd. I like veg foodie's too! Gobi Manchurian s also gud one's ! Thank u for dis amazing receipes!
Posted on:
21 April 2010 - 1:49pm

Wow !Aloo Paratha makes a tasty breakfast ! I love it with tomato sauce and curd. I like veg foodie's aloo paratha too ! You've got to slog less in that.
Posted on:
15 November 2009 - 1:26pm

Pradnya kulkarni says :
Can v just use Atta/Wheat flour instead of Maida n if yes then how much quantity for two people. Please let me know.
Posted on:
10 November 2009 - 1:10am

Yes! you can certainly use Atta as a healthier alternative rather than Maida.
Posted on:
15 November 2009 - 7:49am

There is also an alternative where the dough is made along with mashed potatoes and flour with all the seasonings... but I think garam masala really robs aloo paratha of its original flavor.. its too overpowering, but that's just my preference :)
Posted on:
20 September 2009 - 9:50am

this is really an easy way to make parantha.....sounds simple too...will surely try and let u know how it turned out....thanku for the amazing idea and the evergreen aloo ka parantha recipe.....
Posted on:
15 September 2008 - 10:22am

Oh I love this-yum wish I had a couple right now! शािन्त Shanti/Mary-Anne
Posted on:
11 August 2008 - 11:51pm