»

Recipes

»

Indian

»

Aloo
Aloo Chole Recipe
Aloo Chole (Potato and Chickpea Curry) is a delicious vegetarian dish that originated in Punjab, a northern state in India. Versions of this dish are popular at Indian restaurants around the world. Aloo Chole is typically eaten with Indian bread such as naan or roti. For more recipes, check out my website at www.deliciousindian.com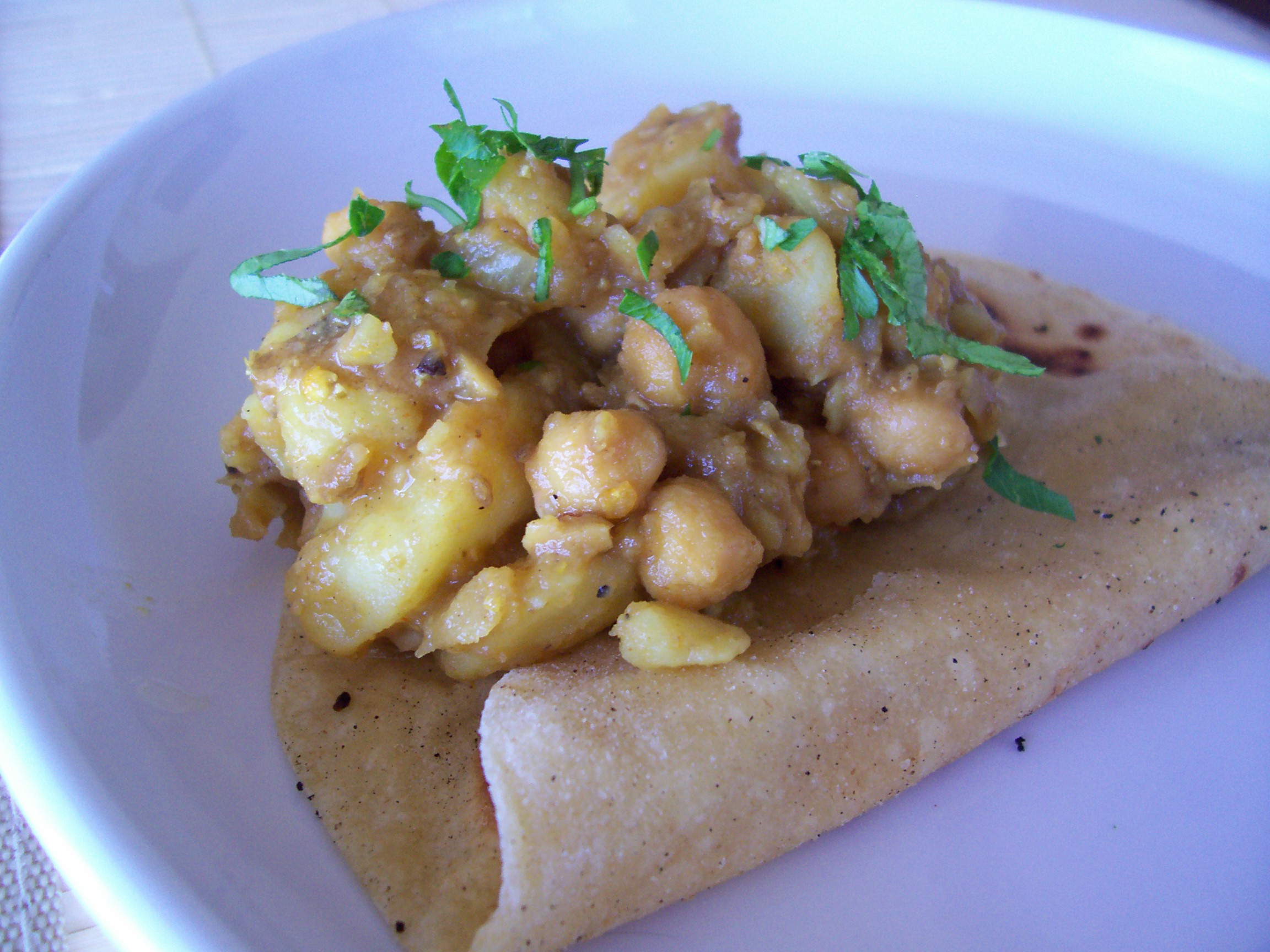 Ingredients
Potatoes

4 Small

Vegetable oil/Canola oil

1 Tablespoon

Onion

1 Small

, diced

Chickpeas

15 1⁄2 Ounce

(Do Not Drain)

Tomato ketchup

3 Tablespoon

Salt

1⁄4 Teaspoon

Garam masala

1 Teaspoon

Chopped cilantro

1⁄4 Cup (4 tbs)

(For Garnishing)

Green chilli

1 Medium

Green chili

1 Medium

Onion

1 Small

, chopped into chunks

Garlic

1 Clove (5 gm)

Peeled grated ginger

1 1⁄2 Teaspoon

Red pepper

1⁄4 Teaspoon

, crushed

Cumin seeds

1 Teaspoon

Coriander seeds

1 Teaspoon

Turmeric

1⁄8 Teaspoon

Water

3 Tablespoon
Nutrition Facts
Serving size
Calories 604 Calories from Fat 97
% Daily Value*
Total Fat 11 g17.5%
Saturated Fat 1.3 g6.4%
Trans Fat 0 g
Cholesterol 0 mg
Sodium 278.2 mg11.6%
Total Carbohydrates 105 g35%
Dietary Fiber 24.2 g96.7%
Sugars 18.7 g
Protein 26 g51.4%
Vitamin A 8.7% Vitamin C 104%
Calcium 18.8% Iron 52%
*Based on a 2000 Calorie diet
Directions
1. Boil the potatoes in a large pot filled with enough water to cover the potatoes. Cook until tender, then peel and chop the potatoes.
2. Combine all the ingredients for the masala paste in a blender and grind to a fine paste. Set aside.
3. Heat oil in a large pan over medium heat. Add the diced onion and saute until lightly browned, about 5-6 minutes. Add the masala paste and mix to combine. Saute for a few more minutes to cook the paste.
4. Add chickpeas (with liquid), ketchup, and salt. Mix and bring to a simmer.
5. Add water and keep at a simmer until chickpeas are tender, about 5 minutes.
6. Add peeled and chopped potatoes and garam masala. Mix gently and simmer for a few more minutes until sauce thickens slightly, about 5 minutes.
7. Add cilantro and mix to combine.

Absolutely delicious Indian recipe. This recipe is simple and easy to cook. With poori and parantha it gives great taste. Thanks for sharing this nice recipe.
Posted on:
19 April 2008 - 5:23am