»

Recipes

»

Cake

»

Almond Holiday Cake
Almond Holiday Cake Recipe
Almond Holiday cake is quick and simple and looks straight out of a fancy cake shop! A delicious dessert, it promises to bring a smile to any face.
Almond Holiday Cake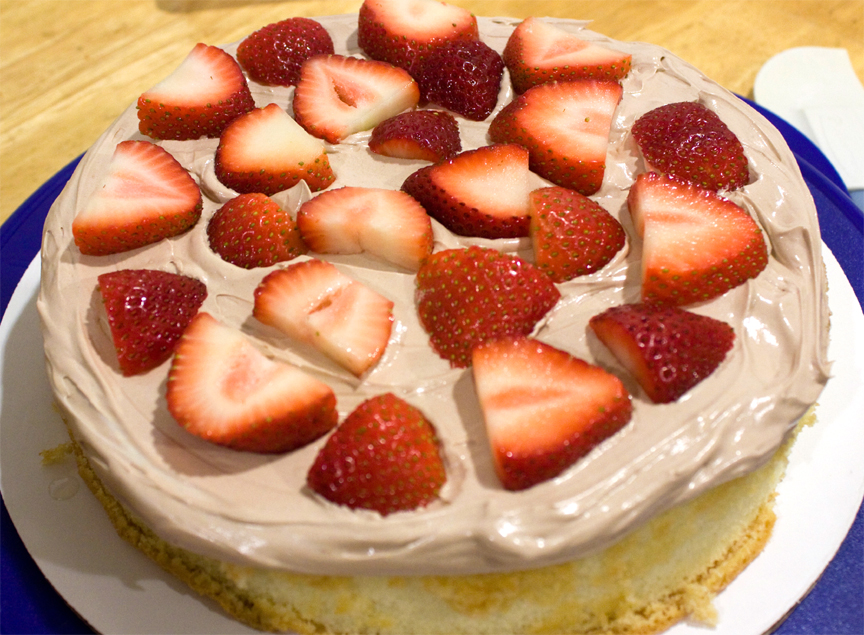 Ingredients
Butter

3/4 Cup (16 tbs)

Sugar

3/4 Cup (16 tbs)

Eggs

2 Small

Ground almonds

1/4 Cup (16 tbs)

Vanilla

1 Teaspoon

Flour

1 1/2 Cup (16 tbs)

Baking powder

1 Teaspoon

Cream

3/8 Cup (16 tbs)

Whipped cream

Strawberries

Bread crumbs
Directions
MAKING
1) In a bowl, add the butter and sugar and cream till fluffy.
2) One at a time, add in the eggs beating well after each addition.
3) Mix in the almonds and vanilla.
4) Sift the flour with baking powder.
5) Make a mix of cream and 1 /4 cup water and add to the creamed mix, alternating with the flour mix.
6) Sprinkle bread crumbs over a greased tube pan.
7) Add the batter into the pan.
8) Place in oven at 325 to 350 degrees for 45 minutes, till the cake test is done.
9) Cool for 10 minutes, then remove from pan.
10) Place on a wire rack and cool.
11) Crosswise cut the cake in half and spread with whipped cream between the layers and on top of the cake.

SERVING
12) Garnish with whole and halved strawberries.