»

Recipes

»

Cookie

»

Almond Fruit Cookies
Almond Fruit Cookies Recipe
Almond Fruit Cookies are absolutely healthy and delicious snack that can also be served as light dessert. You can serve it with some whipped cream or ice cream and make it exotic. Almond fruit cookies can also be made with vegan ingredients and make it healthier.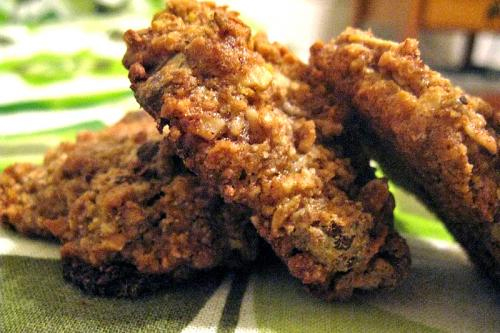 Ingredients
Shortening

1 Cup (16 tbs)

Sugar- I 1/2 cups

Eggs

3 Small

, beaten

Maple flavoring-3/4 teaspoon

All-purpose flour-3 cups, sifted

Salt

1 Teaspoon

Baking soda

1 Teaspoon

Nutmeg

1 Teaspoon

Quick-cooking oats-1 cup

Blanched almonds

1 Cup (16 tbs)

Prunes-1 1/2 cups cooked and chopped
Directions
MAKING
1)In a bowl, beat together shortening and sugar until light and fluffy.
2)Add eggs and maple flavoring and mix well.
3)In another bowl, sift together flour, salt, soda and nutmeg.
4)Add dry mixture into creamed mixture.
5)Add oats, almonds and prunes and mix thoroughly.
6)Take ungreased baking sheets, about 2 inches apart.
7)Bake at 400 degrees for 12 to 15 minutes.

SERVING
8)Serve the almond fruit cookies with tea.