»

Recipes

»

Almond

»

Almond Crispies
Almond Crispies Recipe
Who knows if anyone has really tried this recipe for Almond Crispies? Well that doesn't bother me, since this turned out delectably sinful for me! If anyone of you give this Almond Crispies recipe a try, do let me know how it turns out! I am sure it wont let you down.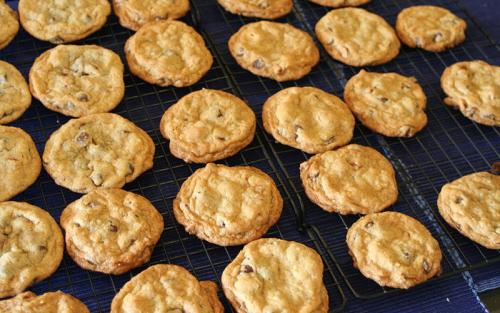 Ingredients
Shortening

1/2 Cup (16 tbs)

Brown sugar

1 Cup (16 tbs)

, firmly packed

Eggs

2 Small

, Well beaten

Flour

1/2 Cup (16 tbs)

, sifted

Baking powder

1 Teaspoon

Salt

1/4 Teaspoon

Cinnamon

1 Teaspoon

Bread crumbs - 3/4 cup, fine dry

Unblanched almonds - 1/4 cup, ground

Seedless raisins

1/4 Cup (16 tbs)

, chopped
Directions
MAKING
1) In a bowl, add together the shortening and sugar and beat well till light and fluffy.
2) Blend in the eggs.
3) Sift together the flour, baking powder, salt, and cinnamon.
4) Mix into the creamed mixture and blend well.
5) Stir in the crumbs, almonds, and raisins.
6) Scoop with a teaspoon and drop onto an ungreased baking sheet, arranging 3 inches apart.
7) Place in the oven at 350° F and bake for 12 to 15 minutes.

SERVING
8) Serve as a snack.