»

Recipes

»

Cake

»

Almond Cream Cake
Almond Cream Cake Recipe
This Almond Cream Cake is just as srumptious as it is easy to make. Why not give this Almond Cream Cake a try this season and impress your guests the way they never expected.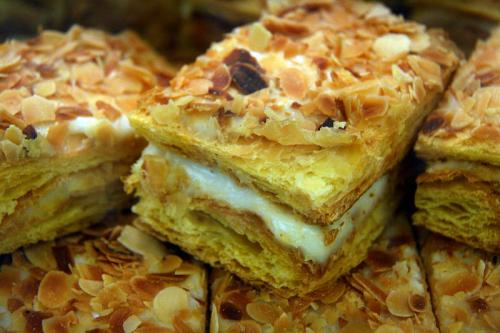 Ingredients
Readymade puff pastry dough- 1 package

Blanched almonds

1/2 Cup (16 tbs)

, finley blanched

Sugar

1/2 Cup (16 tbs)

Butter

1/4 Cup (16 tbs)

Egg yolks

2

Rum

2 Tablespoon

Almond extract

1 drop

Egg

1

, beaten

Milk

1 Tablespoon

Confectioners' sugar-to sprinkle
Directions
MAKING
1)Roll out puff pastry about1/3 inch thick and cut into two 8-inch circles.
2)Take a baking sheet lined with heavy brown paper and place one circle on it.
3)In a bowl, mix together almonds, sugar, butter, egg yolks, rum and almond extract.
4)Spread the mixture on puff pastry, leaving a 1/2-inch border around the edge.
5)Moisten border lightly with water and put second circle on top, press all around with thumbs to seal tightly.
6)In another small bowl, mix egg and milk. Brush the top with this mixture.
7)Using a sharp pointed knife prick the top all over, making a design, if desired.
8)Refrigerate the cake and chill for about 30 minutes.
9)Bake at 425 degrees for 20 to 25 minutes, or until puffed and lightly browned.
10)About 5 minutes before cake is baked sprinkle the top with confectioners' sugar and continue baking until the sugar is caramelized.

SERVING
11)Cool and slice the cake and serve.