»

Recipes

»

Torte

»

Almond Peach Torte
Almond Peach Torte Recipe
Almond Peach Torte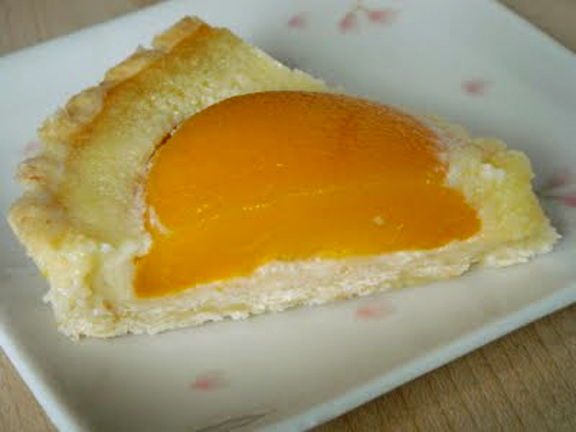 Ingredients
Flour

2 1⁄2 Cup (40 tbs)

Chopped toasted almonds

1⁄2 Cup (8 tbs)

Sugar

2 Tablespoon

Salt

1⁄2 Teaspoon

Butter

3⁄4 Cup (12 tbs)

Chilled sliced peaches

3 1⁄2 Cup (56 tbs)

Whipping cream

2 Cup (32 tbs)

Almond extract

1⁄4 Teaspoon

Crushed pineapple

1 Cup (16 tbs)

, chilled
Nutrition Facts
Serving size: Complete recipe
Calories 4929 Calories from Fat 2925
% Daily Value*
Total Fat 327 g503.6%
Saturated Fat 195.1 g975.5%
Trans Fat 0 g
Cholesterol 1025.7 mg
Sodium 1145.3 mg47.7%
Total Carbohydrates 415 g138.3%
Dietary Fiber 27.2 g108.8%
Sugars 141.5 g
Protein 53 g105.2%
Vitamin A 139.9% Vitamin C 1595.6%
Calcium 46.7% Iron 91.3%
*Based on a 2000 Calorie diet
Directions
Combine flour, almonds, 1 /3 cup sugar and salt; cut in butter.
Add 1/2 cup cold water gradually; toss with fork until moistened.
Form into ball; divide into 3 parts.
Roll each part to 8-inch circle, 1/8 inch thick; place on baking sheet.
Bake at 375 degrees for 10 minutes or until browned lightly; cool.
Drain peaches.
Reserve 8 peach slices; chop remaining peaches.
Whip cream with 1 /4 cup sugar and almond extract until stiff peaks form; reserve 1 cup.
Drain pineapple.
Fold chopped peaches and pineapple into whipped cream.
Spread half the fruit mixture on pastry circle; top with second circle and remaining fruit mixture.Top with circle; spread with reserved whipped cream.
Garnish with reserved peach slices; chill for 3 hours.