»

Recipes

»

American

»

Alaskan

»

Alaskan Lasagna
Alaskan Lasagna Recipe
Alaskan Lasagna is a very famous and popular Italian pasta dish made with flat pasta. This dish is made with different types of ingredients and lots of cheese. We have a crab meat recipe Alaskan Lasagna made with Alaska King crab. Alaskan lasagna makes a complete meal and is best when served hot.
Alaskan Lasagna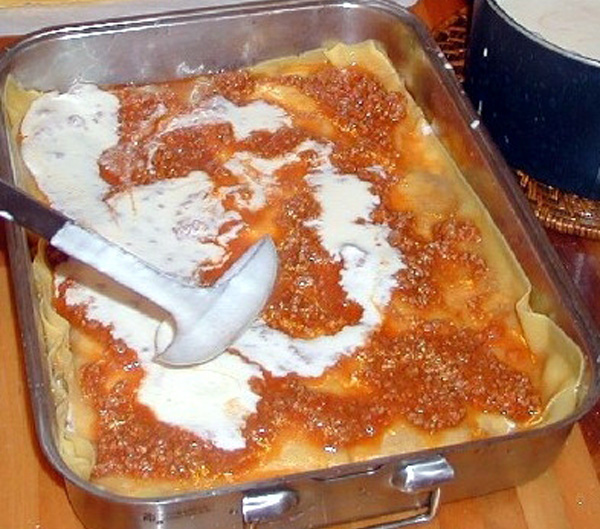 Ingredients
Frozen Alaska King crab-2, (6-ounces) packages, thawed and drained

Tomato sauce-2, (8-ounces) cans

Parsley

1 Tablespoon

, chopped

Green onions

1/4 Cup (16 tbs)

, chopped

Seasoned salt

1/2 Teaspoon

Lasagna noodles-1, (8-ounces) package, cooked and drained

Mozzarella cheese

8 Ounce

, sliced

Cottage cheese ricotta

2 Cup (16 tbs)

Parmesan cheese

1/4 Cup (16 tbs)

, grated
Directions
MAKING
1)In a large skillet, add crab meat and tomato sauce, parsley, onions and seasoned salt.
2)Simmer for 10 minutes.
3)Take a 2 1/2-quart shallow baking dish and spread half noodles in it.
4)Cover with half the crab meat mixture and add half the mozzarella slices.
5)Repeat procedure. Then, sprinkle ricotta and Parmesan cheese.
6)Bake at 375 degrees for about 30 minutes. Leave it for 10 minutes.

SERVING
7)Cut the lasagna into servings and serve hot.