»

Recipes

»

Indian

»

Akki Rotti-2
Akki rotti-2 Recipe
variation: Add Half a cup ground coconut and a piece of onion along with Jeera(cumin) and Rice powder for the dough.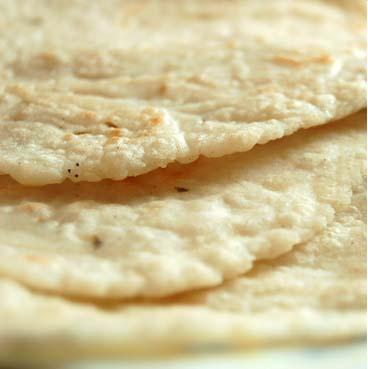 Ingredients
| | | |
| --- | --- | --- |
| | Rice powder | 2 Cup (32 tbs) |
| | Cumin seeds | 3 Tablespoon |
| | Water | 3 Cup (48 tbs) |
| | Salt | To Taste |
Nutrition Facts
Serving size
Calories 642 Calories from Fat 47
% Daily Value*
Total Fat 6 g8.6%
Saturated Fat 0.85 g4.2%
Trans Fat 0 g
Cholesterol 0 mg
Sodium 154.4 mg6.4%
Total Carbohydrates 135 g44.9%
Dietary Fiber 5.4 g21.7%
Sugars 0.5 g
Protein 12 g24.4%
Vitamin A 3.8% Vitamin C 1.9%
Calcium 15.6% Iron 58.4%
*Based on a 2000 Calorie diet
Directions
boil water add the flour & rest of the ingredients(salt n cumin) and mix swiftly with a wodden spoon so that there are no lumps.The consistence should be that of chapati dough.If the dough looks liquefied or pasty, add up little rice powder to tighten it. Cover up with a tight lid and allow it cook for two minutes. Turn off the heat and keep it covered for five more minutes.Wet the hands with cold water & divide dough into three parts. This has to be done when dough is still warm rather hot.One of the three parts has to be tempered by rolling on a slab with wet hands a few number of times, so that it softens without having any lumps.Now roll out as you would do a chapati using rolling pin.Fry on the hot pan on the both sides, until golden. Use of oil while frying is optional. Frying takes couple of minutes depending on the density of the rolled rottis.

when I mix the rice flour with the water, it doesnt come out in a "stable" dough. I mean is not elastic like the weath flour, and while I try to shape it as a dish, it comes apart in grains. I hope I did myself clear :) any suggestions? thansk roby
Posted on:
4 June 2008 - 4:54am