---
Get Your Sugar Fix As Sprinkles Goes AUTOMATic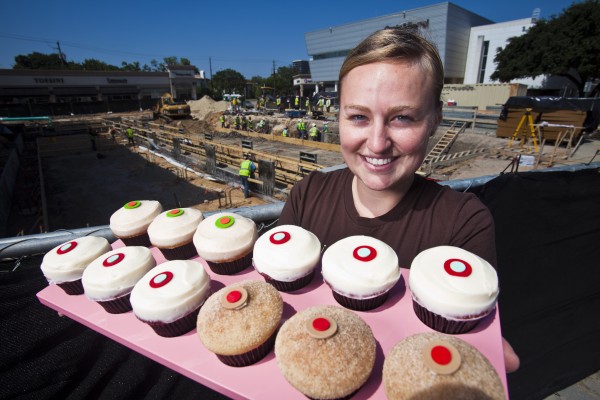 Sprinkles, the world's first cupcake bakery is here and what's better, it is available on order, whenever you want it, wherever you want it. For $4 each, you can get a cupcake of your choice at your convenience. This machine, which resembles an ATM, is the brainchild of Candace Nelson, who has also been a judge on the popular reality TV show, "Cupcake Wars."
1) Instant Gratification
People love cupcakes of all shapes, sizes, and flavors but they have to go to a bakery, stand in a line, more often than not, and wait for their turn. By the time the cupcake comes into their hands, the craving is already gone. So, the cupcake-lovers or technology wizards have already thought of many options to make cupcakes available to people at their whims and fancy. However, the Sprinkles went beyond ideas like a drive-through, a to-go window or a magical smart phone app and created an automat.
2) What is a Cupcake Automat?
This sherbet-colored ATM (not to be confused with a bank ATM) gives the customers a choice of eight daily popular flavors, which they can receive after swiping their credit card. The cupcakes are delivered in individual packing. Candace says about the Sprinkles invention, "I conceived the idea of an automatic cupcake machine after having late-night sugar cravings while pregnant with my second son. Even as Sprinkles' founder, I couldn't get my midnight cupcake fix!" That is hard to believe for a Sprinkles' founder but the mere mortals do face such issues off and on as you would agree too.
3) The First Sprinkles Automat
For now, the ATM-like machines are going to be installed in 10 cities where Sprinkles already exists. The first machine to deliver cupcakes at your convenience is yet to be installed but it will be done in the next few weeks. Sprinkles' marketing representative, Nicole Schwartz, assures that after Beverly Hills, New York is the next on the list. Describing the automat experience, Schwartz says that each machine will be having hundreds of freshly-baked cupcakes and it will be reloaded only during bakery working hours.
The latest effort from Sprinkles may just end up as another addition to the line up on whackiest vending machines in the world. However, the company is upbeat about it as it assures its customers in a press statement, "For Sprinkles addicts on the go, 24-Hour Sprinkles debuts as the world's first cupcake automat! This automatic cupcake machine dispenses freshly baked cupcakes, cupcake mixes, apparel and even cupcakes for Fido!" Whether the Sprinkles Automat will be able to overtake food apps available on iPhone is yet to be seen. So, you, the customer, should have the ultimate say in it. Tell us what you think of this automat. Would you buy yourself a cupcake from the Sprinkles' Automat?
Image Courtesy: dailycaller.com, blog.chron.com
Disclaimer: The image copyrights belong to its owner. The usage of the image in this blog is purely for the entertainment purpose. No copyright infringement intended.
---